Volkswagen Writes-Off Gett Investment, Der Spiegel Reports
Volkswagen invested $300 million in Gett in 2016, and also participated in an $80 million funding round Gett announced in June
Volkswagen AG has cut down its investment in taxi-hailing company Gett Inc. to 16 million euros, according to a Friday report by German weekly Der Spiegel. The decision was a result of Gett's inability to gain market traction in the face of rivals Uber, Didi Chuxing, and Lyft, Der Spiegel reported.

For daily updates, subscribe to our newsletter by clicking here.

Volkswagen invested $300 million Gett in 2016, but since then several media reports have noted the automaker's dissatisfaction with the investment. In June, Gett raised an $80 million funding round from Volkswagen and other previous investors, despite initially aiming for a higher sum, at a company valuation of $1.4 billion. The round brought Gett's total funding to $700 million.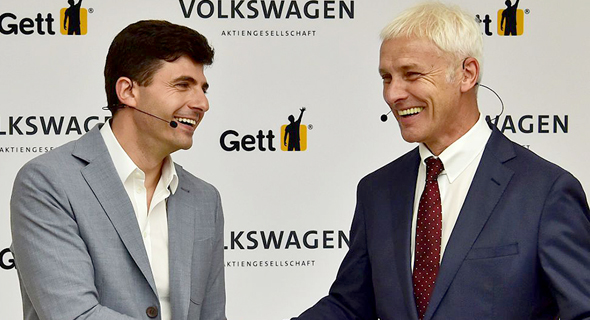 Gett CEO Shahar Waiser (left) and Volkswagen then-CEO Matthias Müller, 2016. Photo: Getty Images

Founded in Israel in 2010, Gett dominates the Israeli ride-hailing market and also operates in Russia, London, and New York City.

In August, Stockholm-listed venture capital firm Vostok New Ventures Ltd., which held a 5.6% stake in Gett at the time, stated in its quarterly report that Gett makes 100 million rides a year and "generates around $1 billion in mobility services."

In October, Volkswagen announced a self-driving taxi pilot in Israel in partnership with Jerusalem-headquartered Mobileye, an Intel Company, and Israeli car importer and distributor Champion Motors Ltd. The company made no reference in its announcement of the initiative, set to launch in early 2019.