As Self-Imposed Acquisition Deadline Grows Near, Orbotech's Stock Continues Downturn
Consumer electronics company Orbotech's stock fell 9.12% since the beginning of the month, reaching $54.7 just over a week before its acquisition by KLA-Tencor was expected to be finalized
The stock of Nasdaq-listed Orbotech Ltd., a manufacturer of processing, inspection, and repair systems for electronic manufacturing, fell 9.12% since the beginning of December. The company reached $60.19 on December 3 following a two week upturn, but dropped to $54.7 by Friday market close.

For daily updates, subscribe to our newsletter by clicking here.

Nasdaq-listed semiconductor company KLA-Tencor Corporation announced plans to acquire Orbotech in March, agreeing to pay around $69 per share for the Israel-based company, according to a company valuation of $3.4 billion. In October, at KLA-Tencor's last earnings call, its CEO Rick Wallace said the company expects the deal to close by the end of 2018.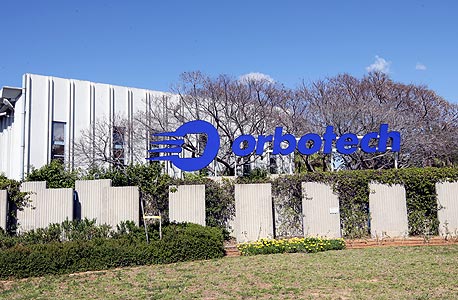 Orbotech's Yavne plant.Photo: Tal Shahar

On December 4, KLA-Tencor published a presentation for its Nasdaq investor conference, discussing Orbotech's pending acquisition and its place in KLA-Tencor's growth strategy without giving a specific date. Orbotech's stock started its current downturn the same day.

As both companies operate in a number of jurisdictions, the deal required regulatory approval in Korea, Israel, the U.S., Taiwan, Japan, and China—all of which have been received barring China.

Orbotech declined to comment on the state of the acquisition.