List
WalkMe, JFrog, and Zerto Lead the Pack on Israeli Stock Option Marketplace
EquityBee, a Tel Aviv-based company that helps startup employees exercise stock options, has ranked the 10 most popular companies on its service
WalkMe Inc., JFrog Ltd., and Zerto Ltd. are the most sought-after companies on stock option marketplace EquityBee Inc., the latter announced Monday.

For daily updates, subscribe to our newsletter by clicking here.

Based in Tel Aviv, EquityBee develops an online service, which was launched in June, that help startup employees exercise their stock options and find investors looking to get a piece of the company.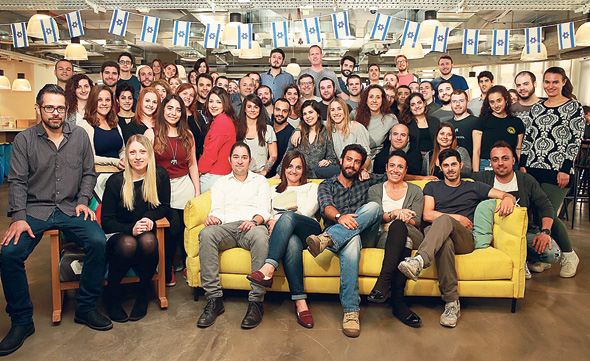 WalkMe's team. Photo: Orel Cohen

In September, the company announced a $1.5 million seed round led by WeWork co-founder and CEO Adam Neumann.

Following are the ten most popular companies on EquityBee's platform.

1. WalkMe

Founded in 2011, San Francisco-based website usability startup WalkMe develops an on-screen navigation guidance and assistance add-on for websites. WalkMe has over 650 employees in seven offices in the U.S., Israel, and Australia, according to company statements. Having raised $217.5 million from investors including Insight Venture Partners, Giza Venture Capital, Mangrove Capital Partners, and Greenspring Associates, WalkMe acquired three companies since 2017—mobile user experience testing company Abbi.io, user behavior analytics company Jaco, and machine learning startup DeepUI.

2. JFrog

With offices in Sunnyvale, California, Israeli coastal town Netanya, Beijing, Toulouse, and Bengaluru, India, Jfrog develops tools designed to streamline the coding process and automate software updates. Founded in 2008, Jfrog employs over 450 people worldwide. The company has raised $228 million to date from investors including Insight Venture Partners, Dell Technologies subsidiary VMware Inc., and Battery Ventures LP. In October, JFrog acquired Israeli startup Trainologic Ltd., which provides end-to-end development, consulting, and training services to software companies.

3. Zerto

Boston-headquartered Zerto develops data recovery technologies for cloud environments and virtualized data centers. Founded in 2008, the company employs around 700 people in offices in the U.S., Israel, France, Australia, and other locations in Asia and the Americas. Zerto has raised $130.4 million to date from investors including Battery Ventures, IVP, and RTP.

4. Fiverr Int. Ltd.

Gig marketplace company Fiverr was founded in 2010 by Micha Kaufman and Shai Wininger, who later founded insurance startup Lemonade Inc. The company offers an online marketplace where users can buy and sell professional services for as little as $5. The Tel Aviv-based company has additional offices in Berlin, New York, San Francisco, Miami, and Chicago, and employs around 400 people, according to Pitchbook. The company has raised $110 million in funding.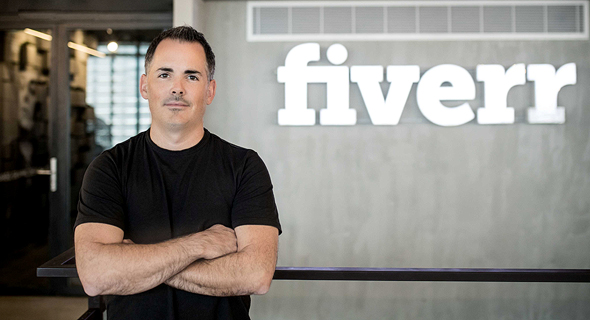 Fiverr co-founder and CEO Micha Kaufman. Photo: Omer Hacohen

5. Innoviz Technologies Ltd.

Founded in 2016 and headquartered in Kfar Saba, a town northeast of Tel Aviv, Innoviz develops low-cost small-size LiDAR systems for self-driving vehicles. The company has raised $82 million. Backers include Delphi Automotive, Samsung Catalyst, and SoftBank Ventures Korea.

6. Via Transportation Inc.

New York-headquartered Via offers a mobile app that allows passengers to hail rides on shared vans. Via's service is available in 21 countries. The company, founded in 2012 by Israeli-born entrepreneurs, announced in November it intends to launch a pilot service in the Tel Aviv metropolitan area. Via has 200 employees in offices in Tel Aviv, New York, and Chicago, according to Pitchbook data. The company has raised $386.88 million from investors including Daimler AG, 83North, Hearst Ventures, Russian billionaire Roman Abramovich, and Pitango Venture Capital.

7. Monday.com Labs Ltd.

Founded in 2012 as DaPulse Labs, Monday.com develops an online team management board that allows organizations to track projects, manufacturing lines, and schedules. The company has around 100 employees working out of offices in Tel Aviv and New York City. Monday.com has raised $84 million to date from investors including Insight Venture Partners, Stripes Group LLC, and Entrée Capital.

8. Cato Networks Ltd.

Tel Aviv-based Cato Networks provides software-defined wide-area network (SD-WAN) security services. The company was co-founded in 2015 by Shlomo Kramer, who co-founded information security companies Check Point Software Technologies Ltd. and Imperva Inc., and Gur Shatz, co-founder of Incapsula Inc., which was acquired by Imperva in 2014. The company has additional offices in the U.S., the U.K., and Singapore. It raised over $50 million to date according to Pitchbook.

9. Gong.io Ltd.

Based in Herzliya, a town in the Tel Aviv area, Gong.io develops a natural language analysis tool for sales teams that provides real-time insights into their interactions with customers. The company's algorithm scans recorded phone calls for predetermined keywords and topics. Founded in 2015, Gong.io employs around 65 people and has raised $28 million to date, according to Pitchbook data. Earlier this month, Gong.io took first place in Calcalist's and Microsoft's second annual artificial intelligence and big data startup competition.

10. Houzz Inc.

Founded in 2009 by an Israeli-born married couple who moved to Palo Alto, California, Houzz offers a web and mobile app service that lets people remodeling or redecorating their homes communicate their vision with home improvement professionals, receive proposals and price estimates, browse for homeware, and create augmented reality simulations to see how products and designs will look in their home. Houzz has raised $613.6 million to date. With offices in Israel, the U.S., Russia, the U.K., Australia, and Japan, Houzz employs around 1,800 people. In February, the company acquired Tel Aviv-based IvyMark, a startup developing online business management tools for interior designers.