Israelis Undeterred by Netanyahu Graft Probes, Early Polls Show
According to polls conducted after Monday's announcement of early elections, Netanyahu's governing Likud party is expected to garner 30 of the 120 seats in the Israeli parliament
The Israeli governing Likud party, led by Prime Minister Benjamin Netanyahu, remains unaffected by Netanyahu's ongoing criminal investigations, according to early polls.

On Monday, Israel's governing coalition said it would dissolve the parliament, announcing the country's general elections to be held April 9.

For daily updates, subscribe to our newsletter by clicking here.

Netanyahu, who currently serves as the country's defense minister, foreign minister, immigration minister, and health minister, is expected to garner the same amount of seats that his party won in 2015—30 of the 120 seats in the Israeli parliament, according to several early poll results presented Monday, including a poll by Israeli Channel 10 news, and a poll by Israeli broadcaster Kan, conducted by the Sarid Institute for Research Services Ltd.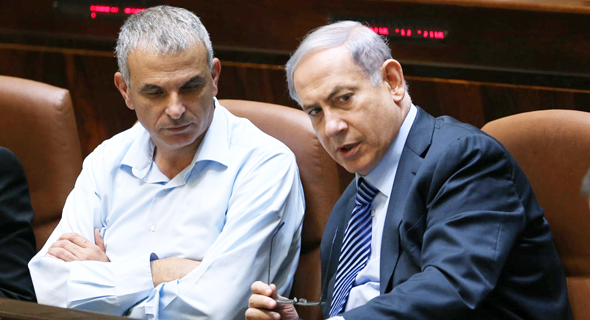 Netanyahu and Kahlon. Photo: Alex Kolomoisky

According to the poll results, Netanyahu is currently expected to be able to form a right-wing and religious coalition, very similar to the one he built following the last elections in 2015. Following the announcement of April elections, Netanyahu said in a statement that he hopes to achieve a similar coalition in April.

Yair Lapid's centrist Yesh Atid party, and the Joint list run by Ayman Odeh, comprising of four Arab-dominated parties represented in the Israeli Knesset, both get 12-13 seats according to the polls.

In the likely event that former Israeli military chief of staff Benny Gantz chooses to run in the elections, he is expected to garner somewhere between 10 - 15 seats, depending on the poll. Gantz left the military in 2015 after commanding over Israel's operations in Gaza in 2014, and 2012. He has not yet publicly confirmed nor denied if he will throw his hat into the election ring.

The ultra-nationalist Jewish Home party led by Naftali Bennett gets 12 seats, according to the early poll reports, compared to the party's 8 seats in the current Knesset.

Israel's central-left Zionist Union party headed by Avi Gabay, a former CEO of Bezeq, the country's biggest telecom company, gets only 9-10 seats in the current polls, compared to the 24 seats it was able to garner in Israel's previous general elections.