U.S. Ambassador to Israel Was Tricked into Investing in an Israeli Winery, Lawsuit Alleges
The U.S. Ambassador to Israel David Friedman was presented with allegedly fraudulent documents when he agreed to invest $730,000 in an Israeli wine company, according to a lawsuit filed Wednesday to a Tel Aviv District Court
The U.S. Ambassador to Israel David Friedman was presented with allegedly fraudulent documents when he agreed to invest $730,000 in an Israeli wine company, according to a lawsuit filed Wednesday to a Tel Aviv District Court. The lawsuit was filed by New York-based wine investment company Karraben Wine LLC, owned by Friedman prior to his appointment as ambassador. To avoid conflicts of interest, Friedman sold the asset in March 2017 to Texas-registered firm Mar Wine LLC in March 2017, before assuming office in May.

For daily updates, subscribe to our newsletter by clicking here.

Mar Wine was registered that same month by Eric Herschmann, a partner at New York-based law firm Kasowitz Benson Torres LLP, where Friedman himself served as a partner before he took on the role of ambassador.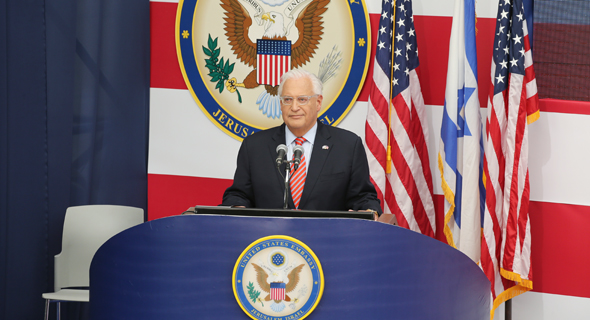 U.S. Ambassador to Israel David Friedman. Photo: Amit Shabi

The $822,000 (NIS 3.1 million) lawsuit alleges that Israeli wine company Montefiore Winery Ltd., and its owner and CEO Arnon Geva, had presented Friedman—and later a representative of Mar Wine—with fraudulent documents including financial reports, bank transfers, and correspondence, to persuade them to make an investment.

The lawsuit, filed by lawyers Dror Arad-Ayalon and Yuval Nachmani, accuses Geva of false representation, forgery of bank documents and financial reports, tax fraud, and money laundering.

The lawsuit list Friedman as a witness.

In addition to other false representations, the suit alleges that in early 2017, Geva told Friedman the company is a leading candidate to receive a lucrative license to commercially operate a historic windmill in the Yemin Moshe neighborhood in Jerusalem, built by eponymous Sir Moses Montefiore. A 19th-century British banker and philanthropist, Montefiore is known for his efforts to convince the Jewish residents of Jerusalem to build their homes outside of the city's historic walls. Geva allegedly later told Friedman his company was given the license, when in fact it was not.

According to the suit, Friedman's and Geva's business interaction began in 2014, when Friedman, a longtime bankruptcy lawyer for Donald Trump, was still a partner at Kasowitz, Benson, Torres & Friedman.

Geva did not reply to Calcalist's request for comment.

In correspondence with the lawyers of Karraben Wine included in the lawsuit, Geva denied the allegations of presenting false documentation, shifting the blame to Friedman who later sold his stake to Mar Wine.