Election
Public Shaming of Political Partner Backfires on Israeli Labor Party Leader
In a Tuesday press event, Israeli politician Avi Gabbay summarily and one-sidedly broke a three-years political alliance, stunning his political partner
As the dust starts to settle following the bombshell breakup announcement of Israel's largest opposition party, backlash against Israeli Labor party leader Avi Gabbay keeps piling. In a Tuesday press event Gabbay summarily and one-sidedly broke a three-years political alliance, stunning his political partner, former Israeli minister Tzipi Livni, who was seated near the podium.

For daily updates, subscribe to our newsletter by clicking here.

Gabbay, who was elected head of the Israeli Labor party in 2017, announced he was dismantling the party without so much as giving his colleague a heads up. In a 40-second speech, he referred to apparent disagreements between the two sides.

The potentially advantageous political move proved a public relations disaster: fuming Israelis marched to social media to vent criticisms centering on a possible misogynistic side to the dramatic announcement.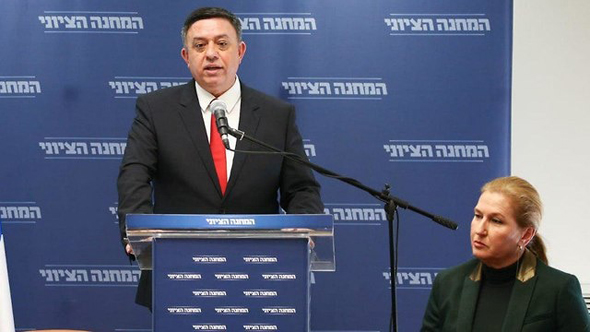 Gabbay and Livni. Photo: Ohad Zwigenberg

Gabbay's Facebook page has seen dozens of reactions since Tuesday's announcement, condemning the way he carried out the move. Some Facebook users informed Gabbay through his Facebook page that they are withdrawing their support, while others have asked to be removed from the party's mailing list, stating they plan to cancel party membership.

Head of the Youth of the Labor party Tomer Pines also condemned Gabbay's move, writing on his Facebook page that the party leader was wrong in both the decision to break up the Zionist Union and "the violent way in which he did so."

A former Mossad operative, Livni joined Israeli politics in 1999 and topped the polls in the country's 2009 elections. In 2012, she set up centrist Israeli party Hatnua. The Zionist Union party was created as a joint electoral list in 2015 by the Labor Party and Hatnua.The party gained 24 seats in the 2015 elections, becoming the second most popular party behind the ruling Likud party.

Recent polls published before Tuesday's dramatic break-up were glum, giving the Zionist Party just 8-9 seats.

Israeli Prime Minister Benjamin Netanyahu is expected to be elected for the fifth time in Israel's April general elections, according to recent polls. He currently serves as the country's defense minister, foreign minister, immigration minister, and health minister. In early December, Israel's police and the Israel Securities Authority recommended charging Netanyahu and his wife Sara with fraud and bribery. A number of ongoing investigations involving Netanyahu don't seem to be affecting Israeli voters, as polls show Netanyahu is still in the lead.

But Netanyahu's smooth cruise may yet see some turbulent waters. A number of recent upheavals across Israel's political spectrum may change voting dynamics.

Posing a risk from the right flank, leading members of the ultra-nationalist Jewish Home party Israeli Minister of Education Naftali Bennett and Minister of Justice Ayelet Shaked launched their own party last week. Breaking up with the markedly religious party, Bennett and Shaked are seen as targeting a more-inclusive right-wing voter base.

Former Israeli army chief Benny Gantz launched his own political party last week. Despite making no clear announcement regarding his own political views, three polls published Sunday give Gantz's party between 13 - 15 seats. While no direct political affiliation was made on behalf of the party's leaders, the new political black horse is seen as gunning for centrist voters.

A possible attempt to align positions with Gantz was also behind Gabbay's bombshell Tuesday performance, Labor party parliament member Itzik Shmuli said in a Ynet interview on Wednesday.

In a Wednesday report, Israeli Ynet News cited Livni, who looked stiff on stage Tuesday, as saying in an interview she was "surprised, but not humiliated."

The same result, she said, could have been achieved "with mutual respect."

Gabbay knew she was in talks for months with both Gantz and Israeli former prime minister Ehud Barak in attempts to create a counter-Netanyahu bloc, Livni said.

"I never looked at her as a woman, but as a colleague," Gabbay said on radio 103FM on Wednesday.