Aeronautics, Rafael to Collaborate on UAV
Aeronautics and many of its top executives have been under investigation by Israeli Police and the country's securities authority since September 2017
Israel-based drone maker Aeronautics Ltd. has signed a collaboration agreement with Israeli defense contractor Rafael Advanced Defense Systems Ltd., the company announced on Wednesday in a filing to the Tel Aviv Stock Exchange. The two will develop and manufacture a UAV based on Aeronautics' existing Orbiter vehicle for military and security applications.

For daily updates, subscribe to our newsletter by clicking here.

The agreement, which builds on an existing one signed two and a half years ago, is a five-year contract but Rafael has the right to terminate the agreement if Aeronautics' ownership structure changes by over 25%.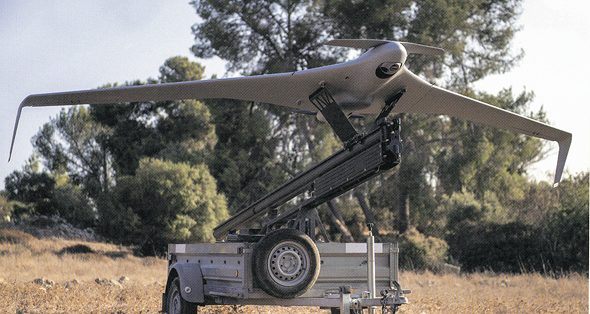 Aeronautics' Orbiter. Photo: Aeronautics' catalogue

Between Friday and Monday, Israeli businessman and billionaire Aaron Gover Frenkel, owner of Loyd's Aviation Group, bought 17.35% of Aeronautics. The acquisition started an upwards trend for the company's stock, which has been on a steep decline since it listed on the Tel Aviv Stock Exchange in 2017. The company also announced several entities are currently negotiating its partial or complete acquisition, among them government-owned defense contractor Israel Aerospace Industries Ltd. ( IAI).

Rafael and Aeronautics have a 50%-50% ownership of Controp Precision Technologies Ltd., an original equipment manufacturer of high-performance, stabilized observation payloads for manned and unmanned aerial, land, and naval systems. Aeronautics' 2017 reports also state the two companies have partnered for a "large, significant tender" related to advanced technologies. In August, Rafael made an offer for Aeronautics according to a company valuation of NIS 430 million ($115 million).

Aeronautics and many of its top executives have been under investigation by Israeli Police and the country's securities authority since September 2017, though the details are under a gag order. On Monday, agents raided the company's offices, confiscated documents, and summoned the executives to the authority's offices.

Since Frenkel's acquisition was first reported on Sunday, Aeronautics' stock rose 37.5%, and is currently trending up.