Chinese Delegation to Explore Cannabis Research Opportunities in Israel
A Chinese delegation will be landing in Israel next week to meet with Israeli cannabis researchers and companies
A delegation of Chinese businessmen and academic researchers in the fields of technology and agriculture is set to arrive in Israel next week, to meet with Israeli cannabis researchers. The delegation is also set to meet with Israeli companies in the domain, especially pharmaceutical companies and those developing technological innovations in the field of cannabis.

For daily updates, subscribe to our newsletter by clicking here.

Israel is considered a leader when it comes to medical cannabis-related research, with both the government and the academia actively participating in the domain for decades. Raphael Mechoulam, a professor of medicinal chemistry at the Hebrew University of Jerusalem, was the first person to identify the main psychoactive constituent in cannabis, THC.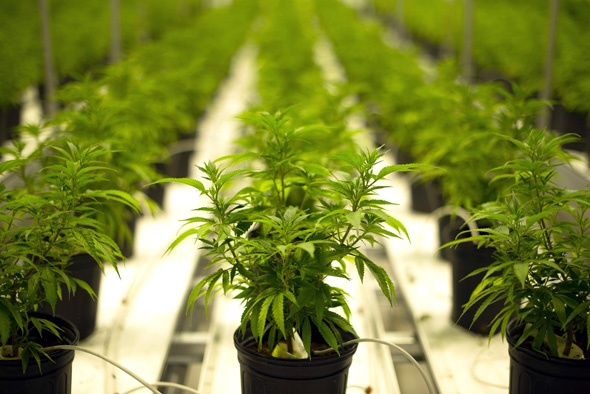 Cannabis. Photo: Bloomberg

The country's relatively advanced regulatory framework when it comes to medical trials with cannabinoids facilitates research: over 70 startups developing cannabis-related technology and products currently operate in Israel, most of them established in recent years.

Last week, Tel Aviv-based cannabis inhaler company Syqe Medical Ltd. raised a $50 million funding round.

A recent reform, expected to get final approval by the Israeli government soon, would also permit for the first time export of medical cannabis from the country.

As part of the visit, the delegation intends to seek scientific collaborations, Ascher Shmulewitz, chairman of Israeli cannabis company Therapix Biosciences Ltd., said in an interview with Calcalist Sunday. Shmulewitz will be accompanying the delegation during its visit.

In October, Therapix entered into an acquisition agreement with Canadian company FSD Pharma Inc., but the acquisition hit a snag in December and its future is currently uncertain.

According to a November report by New Frontier Data, a Washington-based market research and analytics firm specializing in the cannabis industry, China controls over a third of the global hemp market—though the U.S. may soon be posing competition, after a farm bill U.S. President Donald Trump signed in December legalized industrial hemp growth in the states. Hemp has a variety of uses today, from textile and construction materials to biofuel, health food and healthcare-related products.