Mobileye Sketches Autonomous Vehicle Future at CES 2019
The automotive chipmaker announced an agreement with the national mapping agency of the U.K., a partnership with French automaker Valeo, an autonomous public transportation project in China, and a new automatic measure to reduce accidents
Jerusalem-headquartered automotive chipmaker Mobileye is ramping up its autonomous vehicle activities on all fronts, with a slew of announcements made at the Consumer Electronics Show (CES) held this week in Las Vegas.

For daily updates, subscribe to our newsletter by clicking here.

Mobileye, Founded in 1999, develops sensor-based driving assistance systems and automotive chips. Intel paid $15.3 billion for the company in 2017, and turned the company's headquarters into the corporation's global autonomous vehicle development center. In December, Mobileye announced it is moving on with plans to build a new 135,000 square meters campus in Jerusalem, to house all of its global operations.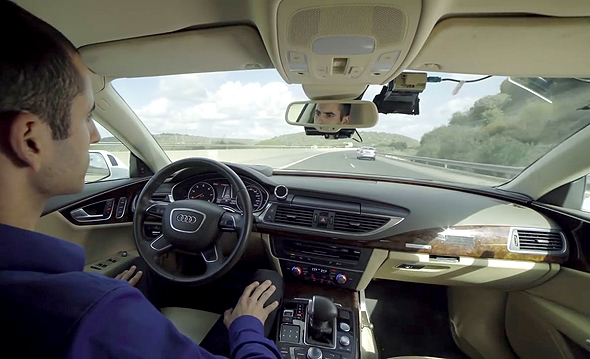 Mobileye's autonomous vehicle. Photo: Mobileye

On Monday, Mobileye announced an agreement with Ordnance Survey, the national mapping agency of the U.K., to develop high-precision maps of Britain. Mobileye's sensors will be installed in Ordance's vehicles to collect road and road infrastructure data, which will then be cross-referenced with existing geospatial datasets. The announcement follows a year-long pilot in the U.K.

In 2017, Mobileye announced a partnership with geographic information system company Esri, to improve pedestrian safety in cities. In January 2018, the company announced that as part of its partnership with Nissan Motor Co., BMW AG, and Volkswagen AG, the three automakers will start collecting data for Mobileye's maps throughout 2018. The company also collects road data in Spain as part of a collaboration with the country's Directorate General of Traffic.

Mobileye stressed several times in the past the important part maps and mapping data play in automotive vehicle technology. "For autonomous vehicles, you need to have very precise maps for the road. It's another redundancy, and also a layer of memory for the vehicle, enabling the creation of localization and planning for drives," Lior Sethon, Mobileye vice president and its deputy general manager of the aftermarket division, explained during an October 2018 Calcalist conference.

Also on Monday, Mobileye announced a potential collaboration with the Beijing Public Transport Corporation and Beijing Beytai, a company providing system integration, big data processing, and analysis, to commercially deploy autonomous public transport services in China.

Mobileye already has several partnerships in China, including a partnership with Baidu, to develop road safety protocols for autonomous vehicles in the Chinese market, and with state-owned Chinese automaker SAIC Motor Corporation Ltd., to develop autonomous vehicles.

On Tuesday, Mobileye announced a partnership with Paris-headquartered automaker Valeo. The two have agreed to collaborate on a new autonomous vehicle safety standard, to be based on Mobileye's Responsibility-Sensitive Safety (RSS) system, the mathematical safety model the company outlined in 2017. The companies aim to draft a framework for the verification and safe commercial deployment of such vehicles and to fund public research on the model.

On Tuesday, Mobileye co-founder and CEO Amnon Shashua outlined in a blog post a new, mathematics-based automatic preventive breaking (APB) approach, based on the company's already existing automatic emergency braking (AEB) technology.

"If APB were installed in every vehicle using an affordable forward-facing camera, we believe this technology can eliminate a substantial proportion of front-to-rear crashes resulting from wrong driving decision-making," Shashua wrote. "And if we add surround camera sensing and the map into the equation so that preventative braking can be applied in more situations, we can hope to eliminate nearly all collisions of this nature."