IAI Attempts to Void Exclusivity Given to Israeli Rival in Negotiations with Drone Maker
On Sunday, Aeronautics announced it has agreed to enter into exclusive negotiations with Rafael regarding a potential acquisition by the latter, according to a $231 million valuation
Israel-based government-owned defense contractor Israel Aerospace Industries Ltd. (IAI) is attempting to break exclusivity given to rival Israeli defense company Rafael Advanced Defense Systems Ltd. in talks to acquire drone maker Aeronautics Ltd., according to two people familiar with the matter who spoke to Calcalist on condition of anonymity.

For daily updates, subscribe to our newsletter by clicking here.

On Sunday, Israel-based Aeronautics announced its board of directors gave exclusive negotiation rights to Rafael until either February 15 or March 1, depending on the due diligence process and other conditions. The company's stock closed almost 32% up on the Tel Aviv Stock Exchange on Sunday market close.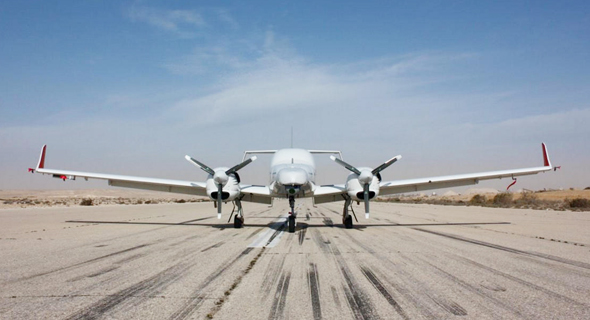 Drone by Aeronautics. Photo: PR

Founded in 1997 and based in Yavne, a town in central Israel, Aeronautics develops military drones and has over 45 defense, military, and homeland security customers worldwide. A police investigation launched against the company and senior executives in September 2017 combined with diminishing revenues to sink the company's stock by almost 30% since its listing.

According to the announcement made Sunday, Rafael and Israeli businessman Avihai Stolero have nearly doubled their August bid for Aeronautics, now valuing the company at NIS 850 million (approximately $231 million), a 70% premium on the company's stock Sunday.

IAI, one of the parties interested in acquiring Aeronautics, sent the latter a letter on Thursday demanding to receive all information Rafael was made privy to during the negotiations, according to the people familiar with the matter. IAI demanded that the sale of the drone maker will be opened in a tender to additional bidders, these people said.