12,000 Israeli Police Officers to be Outfitted With Body Cameras
Israeli Public Security Minister Gilad Erdan said the cameras will supply the country's police with the "ultimate evidence"
Israel's policemen will soon be walking around with body-worn video cameras. On Sunday, Israeli Public Security Minister Gilad Erdan publicly launched a new project outfitting Israeli police with body cameras. Initially, 6,000 patrol and traffic police officers in the greater Tel Aviv area will be outfitted with the cameras. Within a year, 12,000 officers will be equipped with cameras, Erdan said.

For daily updates, subscribe to our newsletter by clicking here.

Body cameras are gaining traction in police forces in the U.S., Australia, China, and other countries. While some studies show their use brings down the number of complaints filed concerning police violence and misconduct, others conclude no clear correlation can be found. Critics claim body cams carried by police infringe on privacy rights and seizure laws.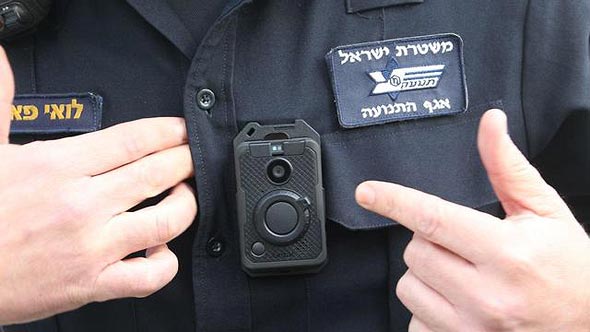 The body camera. Photo: Photo: Moti Kimhi

The cameras to be deployed in Israel are intended to increase transparency when it comes to police-citizen altercations and shorten investigative and persecution proceedings because the police will have the "ultimate evidence," Erdan explained.

In recent years, citizens have the ability to record officers, he said, adding that in his opinion Israel is one of the only countries "where a citizen records a police officer," as cited in Israeli news outlet Ynet. Erdan did not supply information to back the claim.

In May 2018, Israeli police arrested 19 people in protests over the country's actions in Gaza, with seven of needing medical treatment later. One of the protesters, well-known human rights activist Jafar Farah, claimed he was arrested after recording a policeman who refused to let protestors leave the area. Farah alleged his leg was broken by police officers while in custody. The police later announced it will charge the officer involved with battery.

A 2017 report by the Israeli State Comptroller of Israel criticized the country's police and its department for internal investigation for lack of initiative in combating police violence. In 2015, the report found, 6,300 complaints were submitted to the department, but only in 2.3% of cases were the involved policemen charged. The comptroller also castigated the internal investigations department for failing to inform complaining citizens they had to submit a formal complaint.

On Friday, a man of Ethiopian descent, Yehuda Biadga, was shot and killed after approaching police officers in Israeli town Bat Yam with a knife. Police stated he ignored calls to halt. Biadga's family has accused police of not following regulations before opening fire, also claiming the officers were shooting to kill. The Ethiopian community has long complained of discriminatory treatment by the Israeli police.