Video
This Startup Wants to Give Motorcyclists an Extra Set of Eyes
Israel-based Ride Vision develops a rider assistance system that uses computer vision and machine learning to predict when a crash is imminent
As city roads become more congested, two-wheeled vehicles gain popularity. They do, however, tend to be less safe than the four-wheeled metal boxes we call cars. Ride Vision Ltd. wants to make things safer, with the help of some computer vision magic.

For daily updates, subscribe to our newsletter by clicking here.

In 2016, in the U.S. alone, 5,286 motorcyclists were killed in accidents, accounting for 14% of all traffic fatalities, while only amounting to 3% of all registered vehicles in the country, according to a report released last year by The U.S. Federal Highway Administration.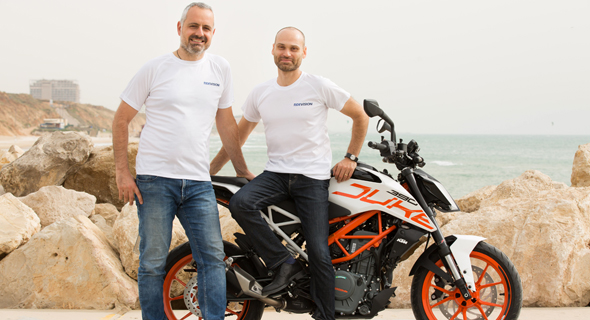 Ride Vision's co-founders Lior Cohen (left) and Uri Lavi. Photo: Ride Vision

Founded in 2018 by Israeli motorcyclists Uri Lavi and Lior Cohen, Ride Vision utilizes a set of sensors, computer vision, machine learning algorithms, and visual alerts to notify riders when they are about to collide with surrounding vehicles. The system can also store videos documenting the ride that can later be used in insurance claims and in court.

"Being more vulnerable, motorcyclists have to pay more attention to everything that goes on on the road. When a motorcyclist is focused on a car changing lanes on the left, he or she might not notice the car hitting the breaks just in front of them," Lavi said in a phone interview with Calcalist.

Scheduled to hit the markets next year, Ride Vision's system will be priced at about $300, with an additional monthly fee for video storage.

Based in Herzliya, just north of Tel Aviv, Ride Vision employs 11 people. In June, the company announced a $2.5 million seed round led by Tel Aviv-based venture capital firm YL Ventures.