Israel's Ministry of Defense Set to Pose Sanctions on Aeronautics CEO
The Israeli drone maker and several of its executives have been under investigation for violations of the Israeli defense export controls law and for insider trading since 2017
The Israeli Ministry of Defense will be temporarily suspending the CEO of Israeli drone maker Aeronautics Ltd. and two other company executives from the country's Defense Export Registrar, Aeronautics announced Sunday in a filing to the Tel Aviv Stock Exchange. Still pending a hearing, if the suspension is enacted the three executives will be barred from sales and marketing activities outside of Israel until a decision is reached by the court.

For daily updates, subscribe to our newsletter by clicking here.

The announcement confirms an earlier report by Calcalist.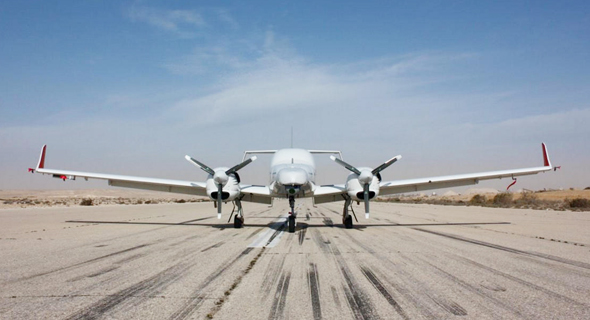 Drone by Aeronautics. Photo: PR

The ministry halted Aeronautics' license to export a loiter munition UAV system to an unnamed but prominent customer in August 2017, blocking a deal the company valued at $20 million. The company has been under investigation by Israeli Police and the Israel Securities Authority since September 2017 for suspected violations of the Israeli defense export controls law. The probe later expanded to include insider trading allegations. The Israel state attorney has already announced indictments will be filed against leading company executives pending a hearing.

Aeronautics is currently in the midst of an acquisition struggle between Israel-based government-owned defense contractor Israel Aerospace Industries Ltd. (IAI) and Israeli defense company Rafael Advanced Defense Systems Ltd. Aeronautics has given Rafael exclusive negotiation rights until either February 15 or March 1.