In Tel Aviv, Reform Sends Cannabis Stocks Down as Shareholders Sell High
On Sunday, the Israeli government gave the final stamp of approval to a cannabis export reform. In response, Tel Aviv's cannabis stocks tumbled
On Sunday, the Israeli government gave the final stamp of approval to a cannabis export reform, for the first time making it possible to export medical marijuana and related products from the country. After climbing on early reports of the expected approval Wednesday and Thursday, cannabis stocks on the Tel Aviv Stock Exchange dropped Sunday as shareholders decided to sell high.

For daily updates, subscribe to our newsletter by clicking here.

The reform has been in the works since 2016, with different parliamentary teams estimating it could bring Israel annual revenues anywhere between $70 million and over $1 billion.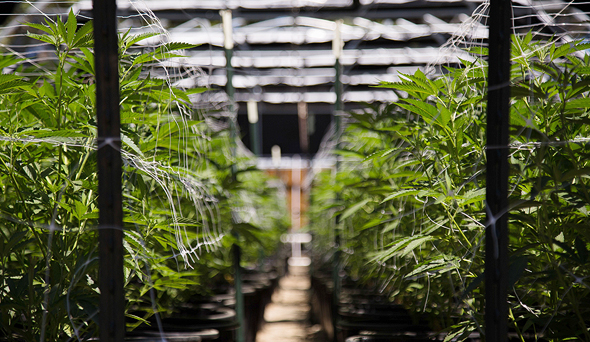 Cannabis farming. Photo: Shutterstock

A long-time hub for medical academic research on cannabis, Israel also started sprouting more and more medical marijuana businesses in recent years. According to data from the Israeli Ministry of Health, 1,055 entities applied for cannabis growing, manufacturing, export and marketing permits. Approval was so far given to 13 businesses: four farming operations, four nurseries, two manufacturing facilities, and three marketing companies. 717 businesses, however, have already received initial approval.

The repeated standstills of the reform led many of these businesses eventually to seek to build operations outside of Israel.

Investors proved more patient, and cannabis stocks on the Tel Aviv exchange saw their price rise in some cases thousands of percentages over the past year.

Sunday's mid-day approval of the reform led 16 of the 17 Tel Aviv cannabis stocks to rise—some of them by as much as 26%—before prices started tumbling.

Cannabis company InterCure Ltd., chaired by former Israeli prime minister Ehud Barak, closed 12.56% down on Sunday after first climbing 25.9%. The company's stock increased by 2200% over the past 12 months.

Medivie Therapeutic Ltd. closed 11.02% down on Sunday after seeing a 6.3% climb. The company gained 82% over the past year.

Together Pharma Ltd. closed 8.61% down, after gaining 8.8% on its opening price at its midday peak. The company rose by 61.6% over the past year.

Tefen Industrial Engineering Management and Systems Analysis Ltd. was down 7.97% after initially seeing a 5.5% hike. The company gained 850.2% over the past year.

Of the four, only InterCure is currently trending up. The company still plans to set up operations in nine target markets outside of Israel, company executive Roei Zerahia said in an interview with Calcalist Sunday.

Shahar Ilan and Tzally Greenberg contributed to the article.