Too Many Cars, Not Enough Roads Turn Israel's Tech Capital to Traffic Purgatory
Traffic congestion was estimated by government officials to costs Israel NIS 35 billion a year
On Wednesday, demonstrators protesting police violence against members of the Jewish Ethiopian community in Israel blocked one of Tel Aviv's main traffic arteries. Traffic in Israel's tech and financial capital came close to a standstill. Popular navigation app Waze had nearly all of the city's roads marked with red for heavy traffic.

For daily updates, subscribe to our newsletter by clicking here.

While not as bad on a daily basis, congestion in Tel Aviv is expected to get even worse. The explanation: more new cars, and not enough roads.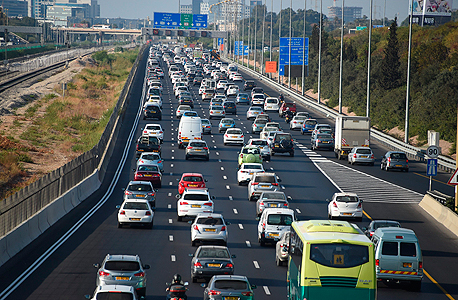 Traffic congestion, Tel Aviv. Photo: Yair Sagi

Between 2000 and 2017, the number of cars on Israel's roads increased by 84%, but road area increased by only 45%, according to data published by the Israeli Central Bureau of Statistics in September.

For many, available public transportation just isn't good enough. 69% of all employed Israelis drive to work, according to 2017 data by the country's central government bureau of statistics. Only 21% use public transportation.

To get to central Tel Aviv by 9:30 or 10 in the morning video editor Yariv Dagan (50) leaves his home in Hadera, some 45 kilometers to the north, by 7:30. On Friday mornings, minus work-related traffic jams, he can make it in under half that time, Dagan said in an interview with Calcalist.

The average traffic speed in Tel Aviv, depending on time of day, now ranges between 20 kmh and 43 kmh, according to data provided by Matat-Transportation Planning Center, a research company working in collaboration with the Israeli Ministry of Transportation.

Cars go even slower in New York City and London. Average travel speed in Manhattan dropped to 11.4 kmh by 2016, according to a 2018 report by the New York City Department of Transportation. London, meanwhile, saw speeds of 26.5 kmh at its outskirts and 11.9 kmh in the city's center in 2016, according to governmental body Transport for London.

But both New York and London have functioning underground public transportation systems. And Tel Aviv? A planned light rail line is only now being built, the launch planned for years ahead. For the meanwhile, work is blocking roads all over the city.

Traffic congestion was estimated by government officials to costs Israel NIS 35 billion a year, Israel's former Bank of Israel Governor Karnit Flug said in July.

A March 2018 report by the OECD pointed to the lack of transport infrastructure in Israel as a major challenge for the country's economic development.

Things weren't always as bad, according to Dagan. Summertime used to mean less vehicles were on the roads. Now, even on weekends, the drive back to Hadera from Tel Aviv can take up to two hours, he said.