Israeli Foreign Ministry Entered a Satirical Iranian Twitter Contest—And Won
An ironic tweet crafted by the Israeli Foreign Ministry garnered nearly 1,500 likes. It predicts the downfall of the Jewish state, and ends with an emoji
Leading up to the 40 anniversary of the Iranian revolution on February 11, a popular satirical Iranian Twitter account with over 115,000 followers asked its followers to nominate "the most absurd or foolish" quote the revolution produced over the past forty years.
For daily updates, subscribe to our newsletter by clicking here.
The Israeli Foreign Office's Persian-language account responded, offering "Israel would not exist in 25 years" with a big smiley emoji, referring to a September 2015 remark by Iran's supreme leader Ayatollah Ali Khamenei.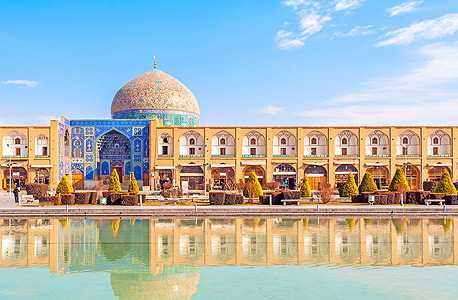 Sheikh Lotfollah Mosque at Naqsh-e Jahan Square in Isfahan, Iran. Photo: Shutterstock
The tweet received nearly 1500 likes and more than 100 retweets.
Two days later, the satirical account officially declared the foreign office's tweet as its winner, adding: "I will report this race every year to see if this account can win another 25 years."
Tensions between Israel and Iran have been escalating in recent weeks.
On Tuesday, before taking off to Poland to attend a U.S.-led Iran-focused summit, Israeli Prime Minister Benjamin Netanyahu threatened Iran saying that if the country were to try and attack Israel, it "will be the last anniversary of the revolution that they celebrate, this regime."
Last month, U.S. Director of National Intelligence Dan Coats told the Senate Select Committee on Intelligence that although Iran likely does not want a large-scale confrontation with Israel, Israeli strikes in Syria "that result in Iranian casualties increase the likelihood of Iranian conventional retaliation against Israel."
In January, the Israeli military started striking Iranian Quds targets in Syrian territory, the military's spokesperson unit said in a statement, referring to the elite branch of Iran's Revolutionary Guards. The targets included a military site located inside the Damascus International Airport.
In response, a surface-to-surface missile was launched from Syrian territory, which was then intercepted mid-flight. No casualties were reported.