Teva Falls in Pre-Market Following Low-Profit Forecasts for 2019
The drugmaker forecasts revenues of $17 billion to 17.4 billion for 2019, much lower than analyst expectations
Teva Pharmaceutical Industries Ltd. is down by as much as 12.29% on NYSE pre-market trading, after publishing its fourth quarter and annual report for 2018 Wednesday, and forecasting revenues of $17 billion to 17.4 billion for 2019, much lower than analyst expectations. Non-GAAP earnings per share for 2019 are expected to be $2.20-$2.50, Teva announced, lower than earlier analyst forecasts of $2.79, and its non-GAAP free cash flow for the year is expected to be $1.6 billion to $2 billion, compared to $3.7 billion in 2018.

For daily updates, subscribe to our newsletter by clicking here.

Teva announced a reorganization plan in December 2017, intended to reduce $3 billion off its base spending by the end of 2019 to better meet its significant debt covenants. The company's layoffs, asset divestment, and portfolio streamlining are intended to continue in 2019.

Teva reported revenues of $4.6 billion for the fourth quarter of 2018, higher than the consensus estimate of $4.53 billion. The non-GAAP EPS estimate was $0.55, with Teva reporting $0.53.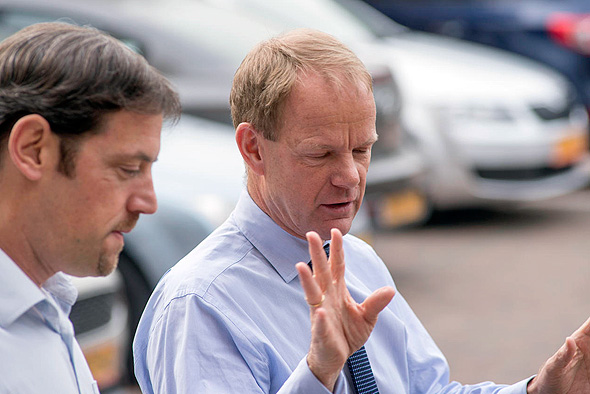 Teva CEO Kåre Schultz. Photo:Yuval Chen

For the full year, Teva reported GAAP gross profit of $8.29, a 22% decrease compared to 2017. Revenues dropped 16% year-over-year to $18.85 billion, still above forecasts of $18.3 billion, but non-GAAP EPS was $2.92, under the forecasts of $2.94.

The decline in profit was mainly due to continuous erosion in profits from Teva's flagship multiple sclerosis drug Copaxone following the launch of generic competition in late 2017. Global Copaxone sales amounted to $2.4 billion in 2018 but Teva expects to see only around $1.5 billion in 2019. Sales of new drugs Ajovy and Austedo are expected to pick up by around $150 million each but not to offset Copaxone reduction.

Looking ahead, said Teva CEO Kåre Schultz, the company expects 2019 to be "the trough" for the business.