These AR Cycling Glasses Will Help You Get a Grip
The glasses provide riders with real-time data such as heart rate, speed, and distance, a built-in GPS system, and come equipped with Bluetooth speakers
Does not knowing your heart rate while biking really grind your gears?

Haifa, Israel-based Everysight Ltd. develops augmented reality (AR) smart-glasses for cyclists. The glasses provide riders with real-time data such as heart rate, speed, and distance in a high-resolution, semi-transparent font, and come with a built-in GPS system.

For daily updates, subscribe to our newsletter by clicking here.

Founded in 2014, Everysight is a consumer augmented reality company spun out of Israeli defense contractor Elbit Systems Ltd. The company's founders gained experience at Elbit, where they worked on the company's pilot helmet.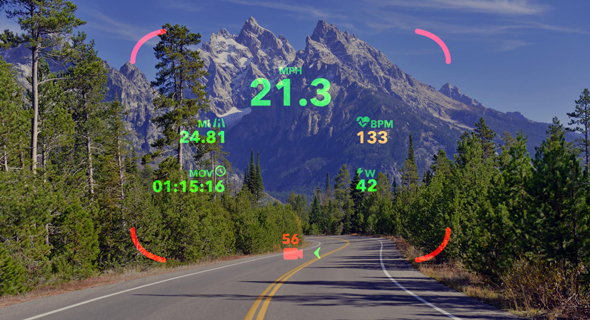 Everysight glasses' data. Photo: PR

The glasses also have bluetooth speakers and a microphone which enable riders to listen to music or pick up phone calls while keeping both hands on the handle-bars. Voice commands can be utilized to control features such as maps, volume, and brightness.

The glasses weigh 100 grams, and the company touts the glasses' battery as lasting up to 8 hours without having to recharge.