Dead Sea Salt and Za'atar Infused Chocolate Maker Wants to Make it Big in Japan
Israeli boutique chocolatier Ika Cohen's products are known for their unusual tastes that include olive oil, Dead Sea salt, basil, and za'atar, a herb native to the Middle East and often used in Palestinian, Israeli, and Lebanese dishes
Israeli boutique chocolatier Ika Cohen wants to break into the Japanese market with spiced chocolate inspired by Mediterranean cuisine. In an interview with Calcalist, Cohen (42) said she is still contemplating what would be the best product to get local consumers in Japan hooked on her confectionary.

For daily updates, subscribe to our newsletter by clicking here.

Cohen's chocolates, made in a small shop in southern Tel Aviv, are known for their unusual tastes that include olive oil, Dead Sea salt, basil, and za'atar (Origanum syriacum), a spice herb native to the Middle East and often used in Palestinian, Israeli, and Lebanese dishes.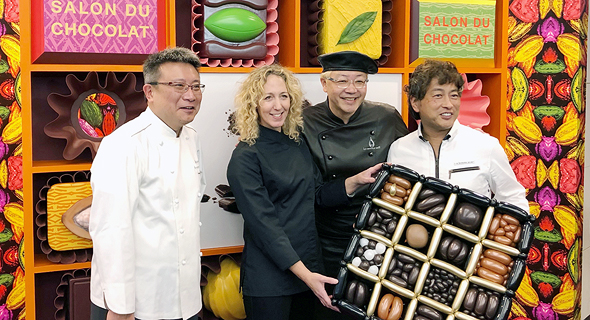 Ika Cohen at the Salon du Chocolat fair in Tokyo. Photo: Shiran Carmel

Cohen's first step in the Japanese market came in January when she participated in the annual Salon du Chocolat fair in Tokyo. The nine-day event brought together chocolatiers from all over the world to showcase their products, and Cohen's products proved as crowd pleasers—she was able to sell over a thousand dollars worth of chocolates per hour, she said in the interview.