Exclusive
Bike Sharing Company Mobike Developing Its Own E-Scooter
The company plans to manufacture its own e-scooters and bring them to market in 2019, according to the company's local operation manager in Israel
Dockless bike sharing company Beijing Mobike Technology Co. Ltd. is currently developing a prototype for an e-scooter, according to Liran Gilboa, who heads the company's operations in Israel on behalf of its local franchise holder Car2Go Ltd. Mobike plans to manufacture its own e-scooters and bring them to market in 2019, Gilboa said in an interview with Calcalist held in February.
For daily updates, subscribe to our newsletter by clicking here.
Founded in 2015, Beijing-based Mobike raised around $930 million, before being acquired by Chinese web company Meituan-Dianping for $2.7 billion in April 2018.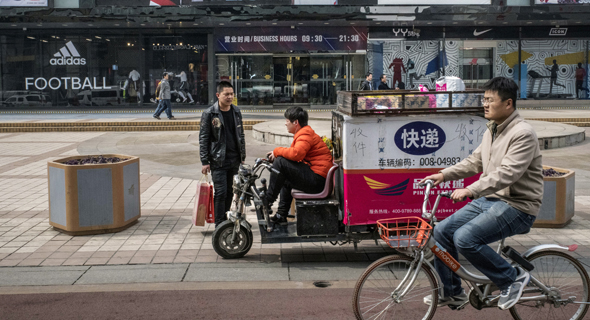 A Mobike. Photo: Bloomberg

Having expanded globally at a quick pace, bike sharing companies like Mobike and Beijing-based Ofo are now facing competition from e-scooter companies.

San Francisco-based Lime, originally a bike sharing company called LimeBike, has phased out its bike operations in favor of mostly e-scooters with a side of e-bikes. E-scooter company Spin, acquired by Ford in November, started out as a bike-sharing company but ended that business after expanding into scooters in early 2018. Ride-sharing company Lyft also launched a dockless e-scooter business in North America in September 2018, shortly after deciding to acquire Motivate, the largest bike-sharing operator in the U.S.

Mobike launched its bike service in Israel in 2018. According to official company data, it now has 91,000 registered users in the greater Tel Aviv area. While companies offering e-scooters, including Los Angeles-headquartered Bird, have seen robust traction in the local market, Gilboa said shared-bike services have also seen growth.

"Users combine different services. The more players enter the mobility sharing market, the larger the market will grow," he said.

As Mobike's local operator, Car2Go would "very much like to see" the company's e-sccoter piloted in Tel Aviv.