This Drone Will Stop Fruit Growers From Going Bananas
Tevel's drones have a mechanical claw designed for picking, thinning, and pruning tasks in orchards
If the upkeep of your orchard is making you go bananas trying to come up with ways to increase fruitfulness, Israeli startup Tevel Aerobotics Technologies Ltd. may have a solution for you.

For daily updates, subscribe to our newsletter by clicking here.

Founded in 2016 and based in central Israel, Tevel is a developer of autonomous drones that are equipped with a one-meter long mechanical claw, which can pick fruits, or be used for thinning and pruning tasks in orchards. The company currently employs 15 people.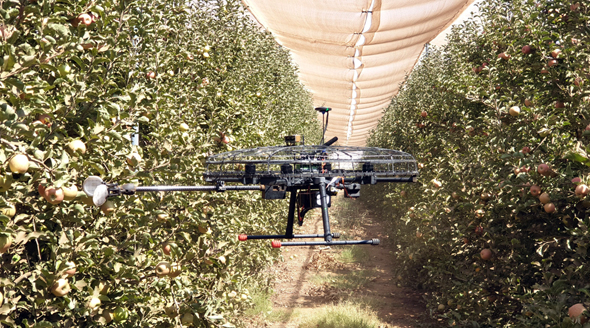 Tevel's fruit-picking drone. Photo: Tevel Aerobotics Technologies Ltd.

Tevel's functioning working prototype was developed in late 2018, said founder and CEO Yaniv Maor in a Monday interview with Calcalist. The company is currently working on a patented fleet of drones that will be commercially available in 2020, he added.

The drones are currently only operational in daylight, but the company is working to give the drone night-vision capabilities to increase productivity.

Tevel's drones are equipped with artificial intelligence capabilities in order to be able to detect fruit type, blemishes, and the fruit's quality based on its ripeness, Maor explained. While the company's current version is able to pick only apples and oranges, Tevel is working on expanding its drone's capabilities to include additional fruits such as avocados and mangoes.