Mellanox CEO: Nvidia Deal Gives the Best Value to Company Shareholders
Nvidia agreed to pay $6.9 billion in cash for the Israeli chipmaker, above Intel's reported $6 billion cash and stock offer
The $6.9 billion all-cash deal Nvidia Corporation and Mellanox Technologies Ltd. announced Monday gives the most value to Mellanox's shareholders, CEO Eyal Waldman said in a press conference Monday. In January, Calcalist reported Intel made a $6 billion cash and stock offer for Mellanox.

For daily updates, subscribe to our newsletter by clicking here.

Nvidia closed 6.97% up on Nasdaq Monday. Mellanox was up 7.78%.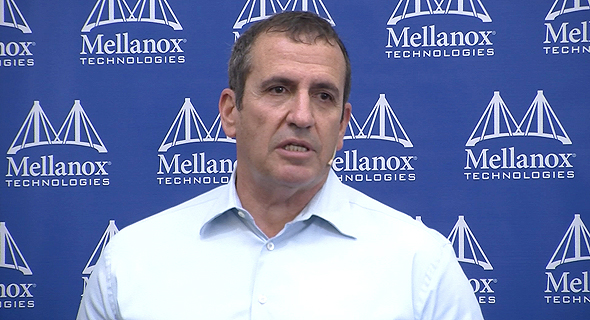 Eyal Waldman. Photo: Dor Manuel

The announcement came shortly after Calcalist reported on Sunday the American chipmaker joined the bidding process, outpacing rumored leading bidder Intel.

Waldman is set to make around $250 million from the sale.

Two other winners are activist investor Starboard Value LP, which has a 5.8% stake in Mellanox, and Oracle Corporation, which holds 4.1% stake in the company following a 2010 investment. Both companies previously held a larger stake in the company but reduced their holdings in 2018.

If completed successfully, the acquisition would be Nvidia's largest to date. The company's previous purchases were all under the $500 million mark. It would also be the second largest acquisition of an Israeli tech company, trailing only Intel's 2017 $15.3 billion acquisition of Mobileye.

In a Monday interview with CNBC, Nvidia CEO Jensen Huang said the acquisition will enable the American chipmaker to expand beyond its current computing capabilities to the entire data center. The data center business accounts for almost a third of Nvidia's revenues, but sales took a hit recently according to the company's fourth-quarter reports, published February.

In an interview with MarketWatch, Huang denied the acquisition was related to slumping revenues. The motivation for the deal, was Nvidia's decision to "double down" on data centers, he said.

Nvidia has committed to keeping Mellanox's operations in Israel for at least two years following the merger, expected to close within 5-12 months. The deal still requires regulatory approval in several locations, including China and Taiwan.

According to Waldman, the Israeli business will remain as is, with Mellanox most likely operating as an independent subsidiary.

Nvidia and Mellanox have joined forces in the past, in a collaboration with IBM to develop super-computers Sierra and Summit for the U.S. Department of Energy.