Eltel Beats Israeli Defense Contractors to IDF Drone Contract
The drones will be used as observation drones for the IDF's infantry units, an IDF spokesperson confirmed to Calcalist Monday
Eltel Technologistics Ltd. has won an Israeli Ministry of Defense tender to supply drones to the Israeli army, an Israeli defense ministry spokeswoman said in a message sent to Calcalist Monday. Eltel prevailed over Israeli defense contractors Rafael Advanced Defense Systems Ltd., government-owned defense contractor Israel Aerospace Industries Ltd. (IAI) and Elbit Systems Ltd. Intel-backed Jiangsu, China-based Yuneec International Co. Ltd. also participated in the Israeli Defense Ministry's tender.

For daily updates, subscribe to our newsletter by clicking here.

The drones will be used as observation drones for the Israeli military's infantry units, a military spokesman said in a phone interview with Calcalist Monday.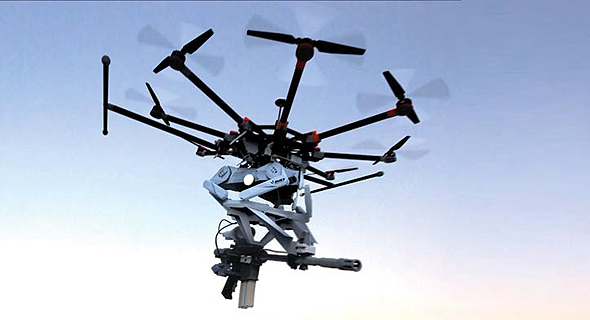 An Israeli Ministry of Defense Drone. Photo: Ministry of Defense

Eltel has partnered with the Israeli unmanned aerial vehicles (UAV) startup CopterPix Pro Ltd., which sits in a Kibbutz near the Gaza border. Founded by veterans of the Israeli army's UAV units in 2013, the company has 20 employees, according to its website.

Israel's Air Force has been operating UAVs varying in size and application for decades, primarily for intelligence-gathering. The IDF currently operates more than 400 drones and employs over 1000 soldiers trained as UAV operators.

The military started utilizing off-the-shelf drones in the summer of 2014, in Gaza. Most of the off-the-shelf drones used are manufactured by Chinese company DJI, with the most widely used model being the DJI Mavic—a modifiable, light pocket drone that is easy to operate in an urban environment.

In November of 2017, The New York Times reported that U.S. government officials claimed that DJI's drones and software may be sending sensitive information back to China. DJI denied this was the case.

In April, Israel used drones to drop tear gas canisters on to crowds of Palestinian protesters in Gaza.

Calcalist reported in August that the Israeli military briefly considered using drones to deliver medical supplies to hospitals in Gaza but abandoned the idea because of practical barriers.

This article has been updated March 31, to correctly identify Eltel Technologistics Ltd. A previous version of this article incorrectly listed Eltel AB as the winner of the contract.