Vinsent Aims to Democratize the Centuries-Old Tradition of Trading in Wine Futures
An Israeli startup has drawn inspiration from a Bordeaux tradition to create a blockchain-based platform for buying—and trading—in wine that has yet to be bottled
An Israeli startup has drawn inspiration from a centuries-old wine selling tradition to create a blockchain-based platform for buying—and trading—in wine futures. Headquartered in Tel Aviv, Vinsent (registered as VinX Network Ltd.) is offering an app that serves as a digital wine shop and exchange, in which users can place their odds on cases of wine that will not be ready for delivery for months, sometime years. The draw here is a significant discount, offered by participating wineries courtesy of eliminated middlemen.

For daily updates, subscribe to our newsletter by clicking here.

The Vinsent app, launched earlier this month, currently offers 15 different wines from wineries in Italy, France, Spain, the U.S., and Israel, sold directly by the winemakers at discounts ranging from 10% to 70%, according to the estimated retail prices listed on the app. Users can buy cases of wine—represented on the Vinsent platform in the form of tokens—using credit cards or cryptocurrencies such as bitcoin and ethereum. Should they want to make things more interesting, users could go on to trade their wine tokens until the wine is ready to be shipped, months later. "Starting with a discounted price, it is a pretty good return on investment," Vinsent founder and CEO Jacob Ner David told Calcalist in a recent interview.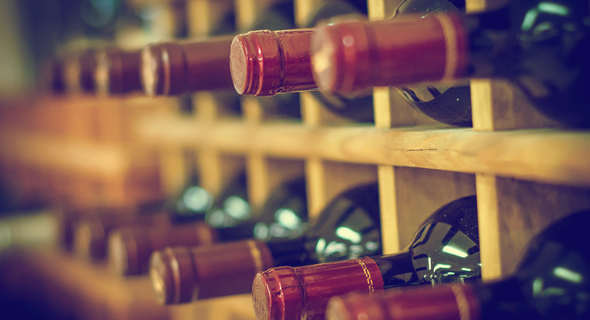 Wine (illustration). Photo: Shutterstock

Giving large discounts should make sense for wineries, who typically sell the majority of their wine wholesale, only making a slim margin of the final retail price, Ner David said. According to him, wineries who partner with Vinsent can view the app as a platform for crowdfunding their next vintage, with orders—and revenues—coming in shortly after harvest. Typically, wineries begin seeing revenues years after the start of the winemaking process, with pressing, fermentation, and aging taking their own sweet time. This fact of the lifecycle of wine is what makes it difficult for new or small wineries to grow and scale. "Wine, in particular, is so challenging because it takes years before you monetize," Ner David said. "At any given time you have more than two years of inventory under your roof."

Ner David knows this all too well. A serial tech entrepreneur and longtime wine enthusiast, he started his own boutique winery, Jezreel, in the north of Israel in 2011. Back then, he said, he thought there must be a very easy to use direct-to-consumer platform for selling wine. When he could not find one, he started thinking about what a good wine commerce platform would look like. Early on he thought there should be some sort of a financing element that helps wineries secure funds as soon as harvest ends. "You take a lot of the risk away at that point," Ner David said, explaining that by then, the quality of the vintage and amount of wine are already known. "The only risk remaining is the winemaker's abilities and skillset. And luck, which is always a part of winemaking."

Ner David said he borrowed the model from the decorated French wine appellation of Bordeaux, where for centuries top-ranking chateaus sold their wines as futures to specialized brokers. Regional wineries invite wine experts to a barrel tasting weeks or months after harvest; the experts then release their predictions regarding the quality of the vintage. It then takes mere days for the wine brokers to buy all of Bordeaux's finest wine-to-be. "This model developed because those wineries had cash roll problems, and this was a way for wine buyers to ensure their allocation of wine," Ner David explained. "I knew about this model, and thought, what if I could democratize this process and invite any winery worldwide to create wine futures and invite people to become partners in each vintage."

Founded in early 2018 by Ner David, along with Israeli entrepreneur Gil Picovsky and wine professional Ron Prashker, Vinsent received an undisclosed investment from Medici Ventures, Inc., a Salt Lake City, Utah-based blockchain investment firm, in October of that year. The company now employs eight people in Tel Aviv and Salt Lake City.

According to Ner David, Vinsent's business model is currently based on fees collected from the wineries on each sale facilitated on the platform, but the company is working to add other payable services, such as wine storage and cellaring. Ner David is also thinking about ways to use Vinsent blockchain platform to fight wine fraud.

"Counterfeit wine is a big issue in the wine industry, and we want to bring a solution to that as well," he said. Once the Vinsent wines are released, blockchain registration will help assure buyers what they get is indeed the wines they had paid for.

Though a third-party developer, Vinsent is working on developing a chip that when inserted between the cork and the foil could serve to read and track wines, guaranteeing their authenticity "the same way that people are trying to tokenize art or Stradivarius violins," Ner David said.