McDonald's Acquires Web Personalization Company Dynamic Yield
Dynamic Yield's service uses machine learning algorithms to help businesses tailor their website to match individual consumers according to behavioral patterns
McDonald's Corporation has signed a deal to acquire Israel-based web personalization company Dynamic Yield Ltd., the companies announced Tuesday. The companies did not disclose the financial terms of the deal. One person familiar with the matter who spoke to Calcalist on condition of anonymity put the sum at over $300 million.

For daily updates, subscribe to our newsletter by clicking here.

Founded in 2011 by Israeli-born entrepreneurs Liad Agmon and Omri Mendellevich, Dynamic Yield's service uses machine learning algorithms to help businesses tailor their website to individual consumers according to behavioral patterns. Dynamic Yield previously raised $83 million from investors including Naver Corporation and Bessemer Venture Partners.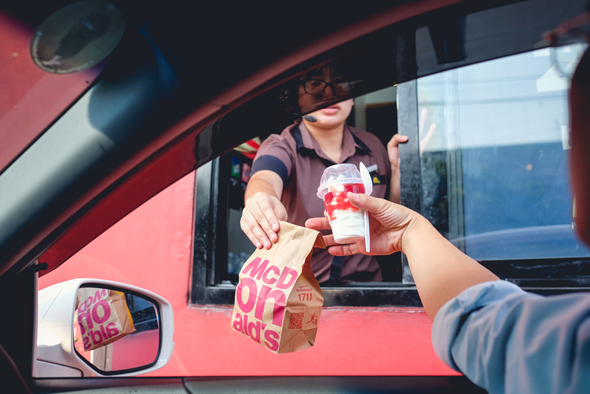 A McDonald's drive thru. Photo: Shutterstock

McDonald's, which has around 38,000 branches worldwide, said it will use Dynamic Yield's technology to better personalize its outdoor digital drive-thru menu, varying choices based on time of day, weather, current restaurant traffic and trending menu items, and also to offer customers additional choices based on existing selections.

The technology has already been piloted in several of McDonald's U.S. branches throughout 2018, the company said. McDonald's plans to start rolling out the technology once the acquisition is complete.

With the acquisition, McDonald's is expanding its "ability to increase the role technology and data will play" in its future, and the speed with which it will be able to implement its "vision of creating more personalized experiences" for customers, McDonald's president and CEO Steve Easterbrook said in a statement.

Dynamic Yield has 180 employees in six locations worldwide including Tel Aviv and its corporate headquarters in New York, with most employees based in Israel. Following the acquisition, it will continue to operate as a stand-alone company.

Dynamic Yield intends to keep its brand and its current clients, and contract new clients, Agmon told Calcalist in an interview Tuesday. The company is also looking to grow its employee count, and specifically its product development team in Tel Aviv, he said.