Election
Netanyahu Emerges From Election as Probable Winner
Benjamin Netanyahu's Likud and Benny Gantz's Blue and White party are tied with 35 seats each, but the right-wing parties are rallying behind Netanyahu
With 97.3% of votes counted, it seems Israeli Prime Minister Benjamin Netanyahu will be continuing for a fifth tenure. Netanyahu's Likud has received 35 seats, the same number as Benny Gantz's Blue and White party, but Israel's right-wing parties have already announced they will back Netanyahu.

For daily updates, subscribe to our newsletter by clicking here.

Former Israeli military chief of staff Gantz joined forces in February with Israeli centrist politician Yair Lapid, and fellow former chiefs of staff Moshe Ya'alon and Gabi Ashkenazi. Blue and White had a slight lead on Likud in polls since then, as well as last night when counting started, leading party heads and activists to celebrate prematurely.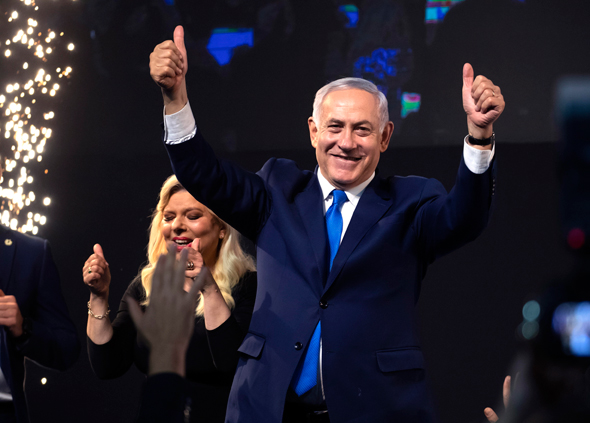 Benjamin Netanyahu and wife Sara celebrating Tuesday night. Photo: EPA

With almost all votes counted, however, Likud has closed the gap. Final results will be published Thursday night or Friday morning.

In Israel, the president appoints as prime minister the candidate that managed to secure the support of a majority of at least 61 of the 120 elected members of parliament, from any party. By law, the final election results must be published within eight days.

As current voting stands, Netanyahu will head a coalition of 65 seats, while the opposition will have 55 seats.

According to the votes currently counted, some of Netanyahu's previous coalition partners have been eliminated.

The New Right, established by Naftali Bennett and Ayelet Shaked after their departure from The Jewish Home party in 2018, did not manage to pass the four-seat electoral threshold. Bennett serves as the education minister in the current government, while Shaked is the minister of Justice. The party is very close to the threshold and may still benefit when the remaining votes are counted.

Another party that failed to pass the threshold was Moshe Feiglin's much-hyped newcomer Zehut party. His messianic, libertarian party polled as high as eight seats, bolstered by his promise to legalize cannabis. Several Israeli media outlets were quick to crown him a potential kingmaker, but at the moment of truth, Feiglin's party failed ro live up to the hype.

The Union of Right-Wing Parties, composed of religious party The Jewish Home and ultra-nationalist party Otzma Yehudit, won five seats. Otzma Yehudit (Hebrew for "Jewish Power") is associated with the teachings of Meir Kahane, whose political movement Kach is considered a terrorist organization by Israel, the European Union, the U.S., Canada, and Japan. Prior to the union, Otzma Yehudit was unlikely to reach the electoral threshold required to get seats in parliament. Last month, Israel's Supreme Court disqualified Michael Ben-Ari, the party's leader, from running but allowed his party's other candidates to stay in the race.

Ultra-Orthodox Shas, led by former convict Aryeh Deri who is currently under criminal investigation again, increased its power from seven to eight seats. United Torah Judaism (UTJ), a joint list made up of the ultra-Orthodox parties Agudat Israel and Degel, also won eight seats.

Center-right party Kulanu, led by finance minister Moshe Kahlon, barely scraped by with four seats. Kahlon, who ran in 2015 on a social platform and did so again this time, was considered the kingmaker in the previous elections with 10 seats. Kulanu has announced it will back Netanyahu.

On the left side of the political map, the Labor received six seats, a record low. In 2015, Labor and Hatnuah combined to form the Zionist Union and win 24 seats, but Labor head Avi Gabbay cut ties with Hatnuah head Tzipi Livni ahead of the current election in a way many considered appalling. Many traditional Labor voters stated their intention to vote for Blue and White in the current election in an effort to unseat Netanyahu.

Combined Jewish and Arab list Hadash-Ta'al has gained six seats. Israeli Arab list Ra'am-Balad is seemingly scraping by with four seats, though it is close enough to the threshold that the remaining votes may change its situation.

Left-wing party Meretz headed by Tamar Zandberg barely made it, with four seats.