Election
Israelis Are Flocking to the Polls
The country's 10,720 polls opened Tuesday at 7 a.m. and will remain open until 10 p.m. to cater to more than 6.33 million eligible voters
Israel's general election is underway. 10,720 polls stationed throughout Israel and in Israeli settlements in the West Bank opened Tuesday at 7 a.m. and will remain open until 10 p.m. to cater to more than 6.33 million eligible voters. 96 additional ballot boxes were stationed in Israeli embassies and consulates in 77 countries last week, allowing about 5,000 Israeli diplomats and state workers to vote ahead of time.
For daily updates, subscribe to our newsletter by clicking here.
The election was pushed ahead from November 2019, after the leaders of the coalition, headed by Israeli Prime Minister Benjamin Netanyahu, announced in December they have unanimously agreed to dissolve the parliament. The decision came after the government failed to pass a bill that would have called for the mandatory military enlistment of ultra-Orthodox (Haredi) men, currently exempt from military service.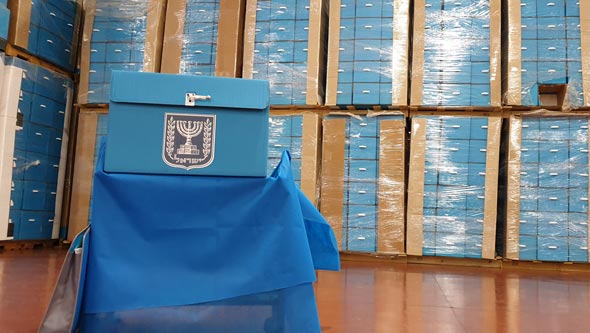 General election in Israel. Photo: Maor Shalom Swisa

The announcement came amidst criminal investigations currently underway against Netanyahu in several cases. In late February, Israel's attorney general Avichai Mandelblit announced he intends to indict Netanyahu for several counts of bribery, fraud, and breach of trust in three cases, pending a hearing, to take place as late as July 10.

Winning the election could mean more to Netanyahu than just keeping his day job, and some believe it may also serve as his "get out of jail free" card, as the attorney general may be less inclined to pursue criminal charges against a recently elected prime minister.

Netanyahu's main contender is former chief of staff of the Israeli military Benny Gantz, who is also gunning for the prime minister's seat.

According to the latest surveys conducted by leading Israeli news outlets and published Friday—legally, the last day in which political survey results could be published ahead of the election—Netanyahu's right-wing Likud party will receive between 26 and 31 of the 120 parliament seats, while Gantz's newly formed centrist party, Blue and White, will get between 28 and 32 seats, making each of them a potential contender to lead the new government.

In Israel, voters cast a single ballot ticket for a political party, and the president then appoints as prime minister the candidate that managed to secure the support of a majority of at least 61 of the 120 elected members of parliament, from any party. In most cases, the honor goes to the leader of the party receiving the most votes.

Still, as the surveys indicate, even should Gantz's party garner more votes than Netanyahu's, it is unlikely for him to find enough supporters in parliament to secure his seat as prime minister. Out of Israel's 20 elections to date, only on two occasions was an elected prime minister not the head of the party with the most parliamentary seats. In both cases, in 1996 and in 1999, it was Netanyahu who prevailed.

The current campaign has seen several scandals and suspected attempts at tilting the results by forces from within and outside of Israel—in January, the head of the Israel Security Agency, better known as Shin Bet, said in a public event in Tel Aviv that a certain country will attempt to influence Israel's general election process;

in March, Israel's Channel 12 News reported that Iranian agents have hacked Gantz's phone; and, most recently, earlier this month, The New York Times reported a possible link between Netanyahu and the Likud party and a network of fake social media accounts that boosted their messages and smeared political opponents.

While many see the election as a referendum for or against Netanyahu, the sheer multitude of parties indicates some of the other pressing issues on the Israeli agenda including gay rights, separation of church and state, legalization of cannabis, and the Palestinian question.