Big Retail Is Watching
Advanced monitoring technologies are now in the service of the retail industry, used to identify potential customers, manipulate their movements inside the stores, and make them buy more
You are walking through your neighborhood supermarket. On your right, the vegetable section; on your left, the canned foods. As you pass the cereal aisle, your phone receives a new message: "Hi! The last time you were here you bought Cheerios. If you want to rebuy it, the product is right in front of you. Buy now, and you will receive a special 10% discount."

For daily updates, subscribe to our newsletter by clicking here.

Welcome to the world of proximity marketing—an industry with one clear goal: to hook consumers at the exact right time when a product's immediate availability makes a purchase the inevitable conclusion. You thought Amazon's no checkout stores were exciting? Well, think bigger.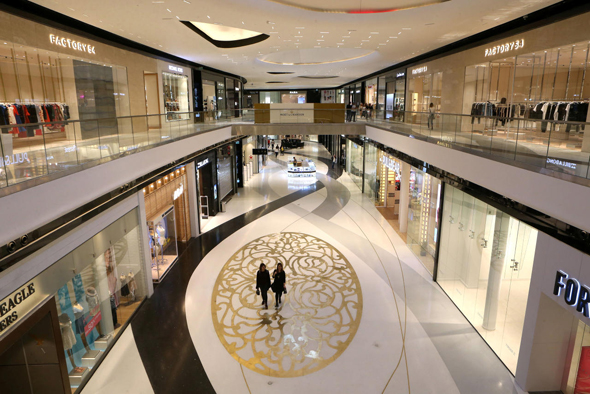 A shopping mall in Tel Aviv. Photo: Zvika Tishler

The most basic monitoring method is GPS, which can identify customers from a few dozen meters away. Starbucks, for example, identifies the GPS signals of the 17 million people who have downloaded its app, sending them personalized messages when they are near a store and tempting them with offers of discounts on their favorite beverages.

But GPS technology is limited, and not well-suited to smaller spaces like buildings and malls, leading retailers to turn to other methods of identifying potential customers. Beacons—small, cheap, battery-powered plastic gadgets that emit Bluetooth signals—are amongst the most popular. The global beacon market was estimated at $626.5 million in 2017, according to financial information company Marketwatch, and is expected to reach almost $15 billion by 2024. Less conservative estimates put it at four times that number.

Macy's stores, for example, have around 4,000 beacons installed. When customers who have the Macy's app installed enter the store, Macy's knows. Accurate within a few tens of centimeters, the beacons monitor the customers' in-store movements, pushing tailored offers through the app. Macy's launched its location-based marketing program in 2015, using a game called "walk in and win" to get customers to download its app.

In an age when e-commerce is often said to herald the end of brick and mortar stores, Macy's is hoping that aggressive marketing technologies could help it keep its head above water. The retailer, which in recent years announced the closing of several stores due to declining sales, has reported a slight increase in revenues between 2018 and 2019, giving it its current market capitalization of $7.48 billion on NYSE. While the company does not provide numbers for its app, the company previously stated its satisfaction with its performance and its impact on sales.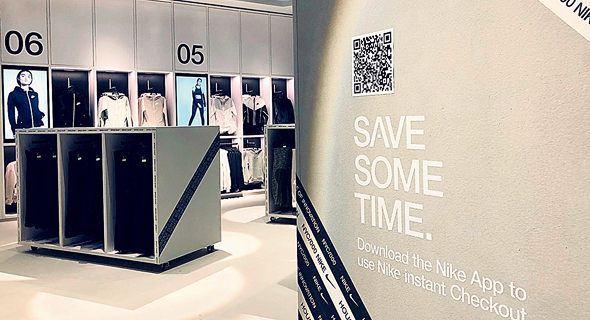 Nike's flagship store in New York. Photo: PR

American retailer Target Corporation, whose stores span on average 12,000 square meters, uses beacons to help customers navigate its aisles, taking the opportunity to display special offers via its app. CVC's pharmacies use beacons to alert customers to new or refilled prescriptions. Fast fashion chain American Eagle employs beacons to offer customers personalized clothing choices via its app.

Beacons are just one type of technology retailers use to increase customer engagement. Walmart employs light fidelity, or LiFi, a technology that uses light bulbs and light waves to transmit data instead of radio waves like Wi-Fi. European Electronic consumer retailer The MediaMarktSaturn Retail Group is also piloting the technology.

Nike's app enables customers to scan the barcode of each item at its flagship store in New York in order to receive information about colors, sizes, and available stock, and ask for items to be delivered to the fitting rooms. Finish retail tech company SmartCart SA develops a smart shopping cart that knows the layout of the store and can cross-reference it with a customer's shopping list to direct consumers to the relevant aisles.

Virtual or augmented reality technologies have also been harnessed in the service of retailers, enabling consumers to visualize how certain furniture will look in their home, or "try on" thousands of cosmetic products using an app.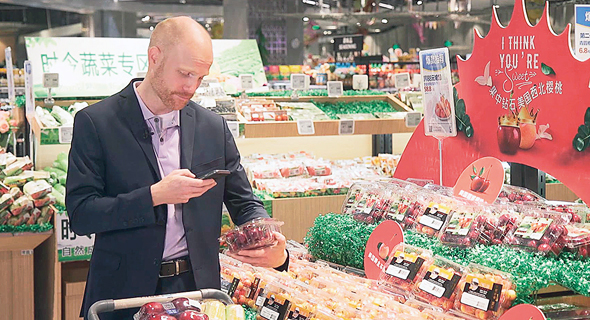 Hema. Photo: Alizia.com

Some technologies currently in the works do not require an app or any form of customer participation or consent. Magnetic positioning creates a magnetic fingerprint for stores that can be cross-referenced with a smartphone's compass, letting retailers know the customer's location with an accuracy of 30-60 centimeters. Preciate Inc., co-founded by Amdocs co-founder Avi Naor, develops facial recognition technology for retailers that can identify people in a crowd with an 85% accuracy, according to company statements.

Brick and mortar stores are making a comeback, Naor said in a recent interview with Calcalist. "There is a very strong trend of omnichannel in retail, which sees the client in 360 degrees, no matter their locations or current activity. Even companies that started only as a digital business realized by now that they need to open actual stores."

One of the main challenges of proximity marketing is the fact that "outside the security world, face recognition technology is considered creepy," Naor said. No big retailer wants to see headlines proclaiming it is spying on its customers or violating their privacy, he added, but the market needs to be educated. "When we started paying with credit cards online, everyone was shocked at the idea of providing card information. Now there's nothing more natural."

Preciate's technology is currently only marketed to top retailers, but long-term Naor can see it used everywhere. He envisions, for example, clothing stores that have data on each customer's size, favorite colors and styles, and shopping history in the store—and payment that is performed via facial identification, no credit card necessary. Or consider Starbucks, he said. "You enter the store, the barista recognizes your face, greets you, asks you if you want your usual. You say yes, take your coffee, and leave. No checkout needed."

Technologies that were previously created for security purposes, retail, and logistics are being combined into a single product, and artificial intelligence is employed to make all that information actionable, Eli Hadar, a proximity marketing consultant to both Israeli and international companies, explained in a recent interview. "AI knows who the customer is, what they want, and can predict what they may want. I can know when a customer is a kilometer away from the store, if they are entering a rival store, and how much time they will spend there."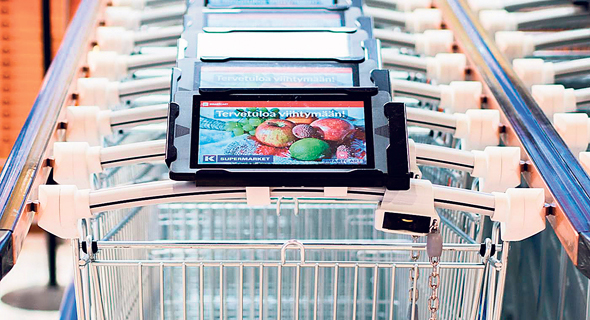 Smartcart. Photo: Smartcart

Recently, Hadar helped install LiFi in stores in Germany and the Netherlands. "If you touch an item, we'll know." And the various technologies often communicate and augment one another, he said. "In Alibaba's supermarket chain Hema, there is a camera that says when an apple was picked and what is its sugar concentrations."

People will always want the physical, the experience of visiting the store, Hadar said. Technology will always work to encourage that.

Despite Israeli companies and entrepreneurs being at the forefront of retail technology, local retailers are lagging behind. The only local player currently cautiously dipping its toes in advanced retail technology is Israeli drugstore chain Super-Pharm. The chain will soon offer customers the option of notifying a store of their arrival so packages will be readied for pickup in advance. Customers using the chain's pharmacies will not need to use their medical identification card but instead will be identified via the store's Wi-Fi or beacons.

Physical retail is not going away anytime soon, according to Mitrani. "You just need to enhance the physical shopping experience and enrich the offerings."