Israel's Cannabis Potential Is Immense, Says Ehud Barak
The former Israeli Prime Minister and current chair of cannabis company InterCure spoke Monday at Calcalist's cannabis conference
Former Israeli Prime Minister Ehud Barak is confident that the burgeoning medical cannabis industry in Israel is bound to succeed. "Israel's potential is immense," the current chair of cannabis company InterCure Ltd. said Monday at Calcalist's cannabis conference, held in Tel Aviv.

For daily updates, subscribe to our newsletter by clicking here.

The market could be worth as much as $150 billion or even $300 billion within a decade, Barak said, adding that the pharmaceutical potential of cannabis has only been lightly touched upon. Unlike generic drugs, he explained, a change of growing conditions or season can result in completely different chemical compositions for the same plant.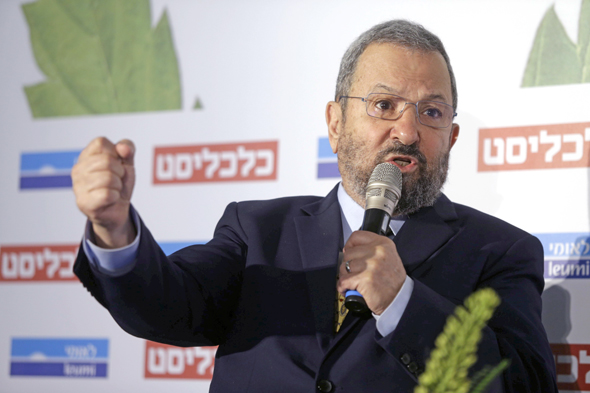 Ehud Barak at Monday's conference. Photo: Amit Sha'al

"In upcoming years, I believe cannabis will be used in the beverage industry, as a tobacco alternative, in cosmetics," he said. "We'll also be seeing premium products that will be sold at high prices due to differences in taste, like wine."

The Israeli cannabis industry has an advantage over most other industries, even those found in Europe or Canada, according to Barak. "Israel's growers are not like any other; these are people that in other circumstances would've worked at a leading tech company," he said. "Unlike Canada, Israel has the knowledge to dramatically improve its positioning. There is a sense of discipline and precision you won't find in most other places."

InterCure subsidiary Canndoc, one of Israel's few licensed medical cannabis growers, is currently working to establish collaborations with 10 countries, Barak said. In the next 24 hours, he added, the company will announce the signing of a partnership agreement with a Southern European EU member.

Israel's medical cannabis industry has seen many setbacks due to regulatory red tape, but Barak thinks the country can still pull ahead in the global race. Canadian companies do not necessarily benefit from the country's all-embracing approval, he said, and in the U.S. there is still much bureaucracy left to regulate. Israel's experience in genetics and development could boost it ahead, for companies willing to be quick, he said.

InterCure recently announced a partnership with a Canadian company to grow cannabis in Canada. The company has received all the necessary permits in Canada, Barak said, but is still dependent on regulatory processes being finalized in Israel to import back to the domestic market. "I believe things will work out in the next few months," he said.