Cannabis Is a Bubble, Says Technion Researcher
David Meiri of the Technion's laboratory of cancer biology and cannabinoid research spoke Monday at Calcalist's cannabis conference
Medical cannabis is still not accurate science, according to David Meiri, head of the laboratory of cancer biology and cannabinoid research at the Technion Israel Institute of Technology. Speaking Monday at Calcalist's cannabis conference in Tel Aviv, Meiri said cannabis is the "mother of bubbles—companies that sell in the range of a hundred thousand dollars and are valued in the billions."

For daily updates, subscribe to our newsletter by clicking here.

Four years ago, Meiri said, the lab started to research the anti-cancer qualities of cannabis and discovered it does "everything," from reducing nausea and pain to helping with anxiety and epilepsy. What makes cannabis special is cannabinoids, he explained, chemical compounds found in high quantities only in cannabis plants.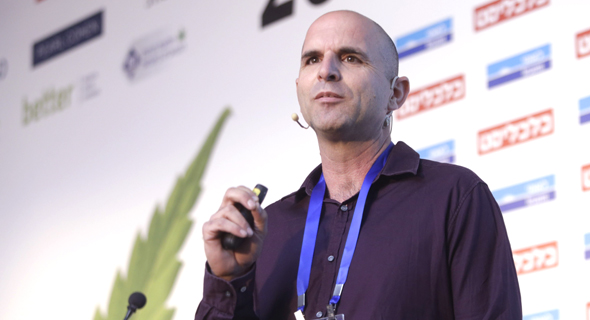 David Meiri. Photo: Amit Sha'al

Cannabis creates phytocannabinoids (naturally occurring cannabinoids), which affect receptors in the body via a specific biological system called the endocannabinoid system (ECS). "In our lab, we work with 28 receptors," Meiri said, "and can identify 144 phytocannabinoids." The lab works with around 800 different genetic lines of cannabis, he added.

Different cannabis lines have a different impact on medical conditions, Meiri said, whether the condition in question is one of various types of cancer or epilepsy. "Those who claim to know their effects are stretching it. Growers don't really know. So how do we research it? We take all the Israeli strains, strains from abroad as well, separate them into groups, create samples, and apply them to cells."

The strains that work are applied in increased concentrations, isolated again and again, until the right strain at the right concentration for the right condition is identified.

However, Meiri cautions, just knowing how to look at CBD and THC doesn't mean one can actually help specific patients, as no one knows if the compound is stable, or what is its shelf life. That's why medical cannabis needs to be taken to the professional level, he said.

The current bubble has around five years of money being poured into it, Meiri said. "Then it will be like the dot-com bubble. Only the main, best companies will remain."