Top Startups
Calcalist's Top 50 Startups 2019: #2 The Great Marketing Leap
Appsflyer, whose technology lets app developers monetize users, jumped from a $1 million annual turnover to a $130 million turnover in just over five years
The past year has been very good for marketing analytics company AppsFlyer Ltd. It more than doubled the number of employees from 300 in January 2018 to 630 in April 2019. In just five years Appsflyer jumped from a $1 million annual turnover to a $100 million turnover at the end of 2018. As of April 2019, its turnover has reached $130 million and is expected to near $200 million by the end of the year.

See Calcalist's top 50 startups project here.

Analyzing the company's revenues not only indicates significant growth, but also shows steady income streams: 90% of the company's revenues come from subscribers signed on for a minimum period of one year, and 65% of them have paid for the full year in advance.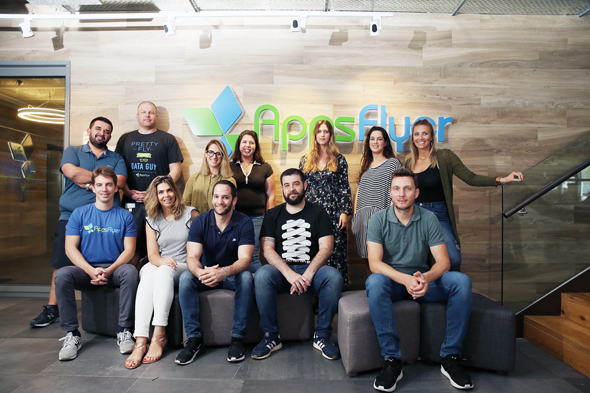 Appsflyer. Photo: Appsflyer

Headquartered in Herzliya, in central Israel, AppsFlyer was founded in 2011 by CEO Oren Kaniel and chief technology officer Reshef Mann. The company's technology lets app developers track where their best spending customers are coming from—for example from Google searches, Facebook ads, Twitter, commercial text messages, or television spots—in order to determine where and how they should spend their marketing budgets to maximize monetization.

In the past year, AppsFlyer has signed deals with eBay, NBCUniversal, Adidas, Hyundai, and Coca-Cola.

Despite its impressive turnover, AppsFlyer is not planning an IPO, but is instead looking to grow as a private company and advance its technology.

AppsFlyer's latest funding round was announced in 2017, when it raised $56 million, bringing its total funding to $83.1 million. Investors include Goldman Sachs, Pitango, Magma Venture Partners, Eight Roads Ventures, and Israeli businessman Eyal Gura.