Tel Aviv's Flirtation With Airbnb Has Turned Into a Full-Blown Love Affair
A third of the new housing units added to the Tel Aviv market in 2018 went on to be offered exclusively to short term rentals through Airbnb, according to a new report
The percentage of short term rental apartments has risen sharply in Tel Aviv in recent years, taking a large bite out of the city's available housing, according to a new report.

For daily updates, subscribe to our newsletter by clicking here.

The report, commissioned by housing organization Yes in my Back Yard (YIMBY) Tel Aviv and led by economist Maayan Nesher, the former head of housing and construction at Israel's Ministry of Finance, and urban planner Tal Alster, found that 7,150 apartments in Tel Aviv are rented regularly for short term visitors through Airbnb, amounting to 3.4% of the city's apartments.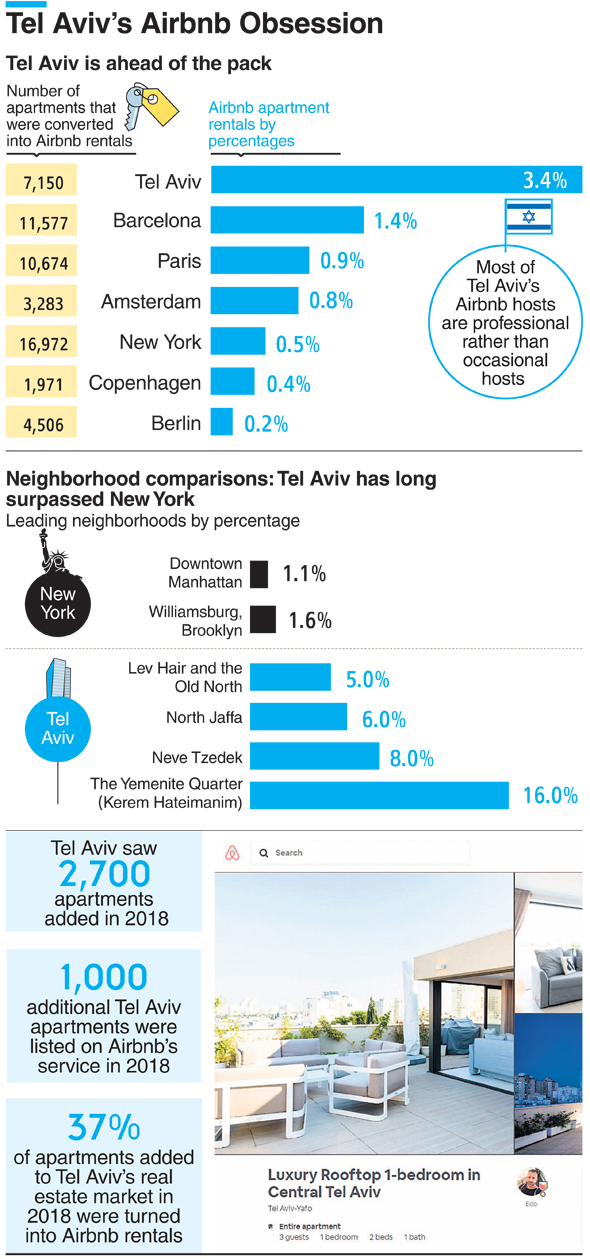 Tel Aviv's Airbnb Obsession

According to the report, Tel Aviv's vacation rental to housing ratio is seven times higher than that of New York, where just 0.5% of the apartments are offered exclusively to tourists through Airbnb. Tel Aviv also placed ahead of Paris (0.9%), Amsterdam (0.8%), and Berlin (0.2%).

International tourism to Tel Aviv has gone up in recent years. More than 4 million tourists visited Israel in 2018, a 14% rise from 2017, according to data published in January by the Israeli Ministry of Tourism. The opportunity created by subleasing platforms such as Airbnb, combined with soaring living and housing costs in Tel Aviv, has pushed many to take advantage of the business opportunity of vacation rentals.

A July 2018 Bloomberg report noted Tel Aviv is among the ten most expensive cities in the world for short-term rentals through Airbnb. The city snagged the fourth spot out of 120 cities surveyed, with an average nightly rate of $188, more than both New York and London.

The report found that out of the 9,150 Tel Aviv apartments offered for rent on Airbnb, 7,150 units are rented exclusively to tourists. While the city saw some 2,700 housing units added to the market in 2018, approximately 1,000 of them were offered as short term rentals on Airbnb.

In a response to Calcalist's request for comment last month, a spokesperson for the city of Tel Aviv stated that short-term rentals have yet to be regulated by Israeli law, in spite of the city's appeals to the Israeli government. "Until the issue is nationally regulated, the city is working to address it with the tools available to it."