Veego Emerges From Stealth With Backing From Bosch
The Israel-based startup uses artificial intelligence algorithms to develop products that when installed on gateway devices can automatically detect, analyze, and fix problems in smart home systems
Veego Software Ltd., an Israeli startup looking to eliminate malfunctions of IoT and connected home devices, has emerged from stealth Tuesday with $5 million in seed, including a strategic investment from Robert Bosch Venture Capital GmbH (RBVC), the venture arm of the Bosch Group. State of Mind Ventures (SOMV) and North First Ventures (N1V) also invested in the company.
For daily updates, subscribe to our newsletter by clicking here.
"When we closed the official seed round, we decided to take another month and see if we could initiate a connection with a significant strategic investor, someone who could provide us with market shortcuts, someone who could help us with our go-to-market strategy," Veego co-founder and CEO Amir Kotler said in a Tuesday interview with Calcalist. "We had a list of five to ten entities, and Bosch was one of them."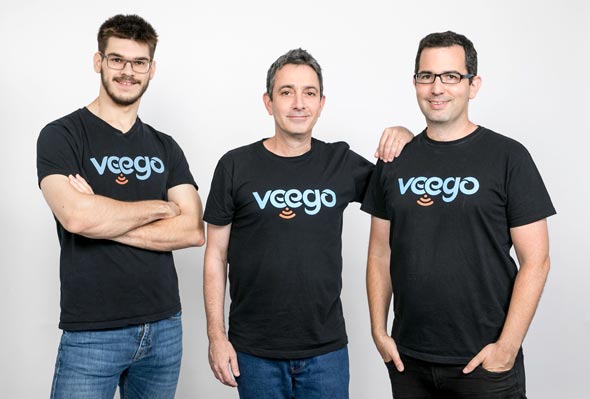 Veego founders Denis Sirov (left), Amir Kotler, Reffael Caspi. Photo: Veego
Kotler is a serial entrepreneur with an impressive track record. In April 2018, Palo Alto Networks Inc. acquired Israel-based cybersecurity startup Cyber Secdo Ltd., of which he was the president and chief operating officer.
Planning for Veego started immediately after, said Kotler, who officially founded the startup in December 2018 together with co-founders Denis Sirov and Reffael Caspi, after several months of bootstrapping and working out of coffee shops. The company uses artificial intelligence algorithms to develop products that when installed on gateway devices can automatically detect, analyze, and fix problems in smart home systems.
"I come from a cybersecurity background, and I realized that cyber attacks launched on connected homes look a lot like IoT device malfunctions," Kotler said.
Bosch is one of the three largest players in the connected home industry, both as a manufacturer and as a developer of management solutions for smart homes, Kotler said. "And that technology, that sort of intimate data analysis of possible malfunctions, is what we can offer Bosch. Statistics, information that could eventually prevent recalls; it is an angle they don't currently have."
While the company does not have paying customers yet—its technology is currently being tested by many companies, mainly internet service providers, Kotler said —the product is set to reach the European, American, and Israeli markets in August.
Veego is based in Ramat Gan in the greater Tel Aviv area, with all of its 20 employees employed locally. The company plans to hire seven additional people for its research and development team soon, as well as three marketing personnel.