9,000 Tickets Issued to E-Scooter and E-Bike Users in Tel Aviv in 2019
The city stated it was working to change the current situation in which bike lanes are often a part of the sidewalk, and to receive more authority from the government to enforce existing laws
Since the beginning of 2019, 9,000 tickets were issued to electric scooter and bike users who rode their vehicles on sidewalks in Tel Aviv, the city announced in a Facebook post Wednesday.
For daily updates, subscribe to our newsletter by clicking here.
The fine for using an electric micro-mobility vehicle on sidewalks is set at NIS 250 (approximately $69). In its post, the city said it was working to change the current situation in which bike lanes are often a part of the sidewalk, and to receive more authority from the government to enforce existing laws.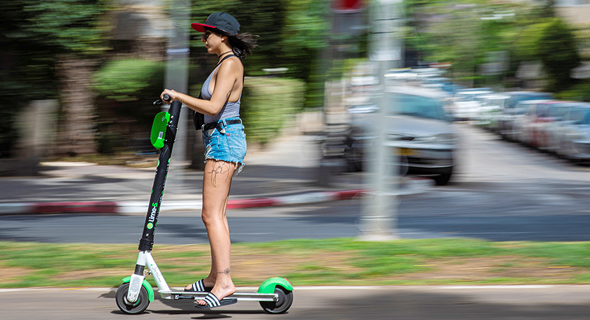 An electric scooter in Tel Aviv's Rothschild Boulevard. Photo: Yuval Chen
Tel Aviv is considered a haven for micro-mobility vehicles thanks to its warm climate and mostly flat terrain. Several local and international scooter and bike-sharing companies operate in the city, offering users an accessible, environmentally friendly alternative to cars, especially in light of the city's highly congested roads.
However, the quick rise in the number of vehicles, riding at great speed on either the sidewalks themselves or on bike lanes drawn on sidewalks, also brought forth safety concerns. In July, new regulations restricting the use of micro-mobility vehicles will come into force following a series of accidents involving electric bicycles and e-scooters, some of which were deadly.