Online Insurer Lemonade Heading for New York IPO
The SoftBank-backed company has hired JP Morgan as the underwriter and is looking to go public within six months, according to two people familiar with the matter
Online insurance company Lemonade Inc. is looking to make an initial public offering in New York within the next six months at a company valuation of $2 billion and has contracted JP Morgan and Chase and Goldman Sachs as the underwriters, according to two people familiar with the matter who spoke to Calcalist on condition of anonymity. The company wants to raise over $500 million, one person added.

For daily updates, subscribe to our newsletter by clicking here.

Lemonade has been approached for comment but has yet to respond.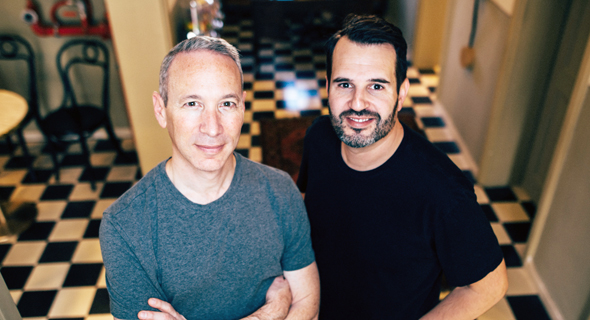 Lemonade co-founders Shai Wininger and Daniel Schreiber (right). Photo: Ben Kelmer

The timing of the IPO is surprising, as just in April Lemonade raised a $300 million round led by SoftBank Group, bringing its total funding to date to $480 million. If the company lists at its desired price, it will be one of the most highly valued IPOs of Israel-linked companies. The current record holder, automotive chipmaker Mobileye, listed according to a company valuation of $5.3 billion before being acquired by Intel in 2017 for $15.3 billion.

Founded in 2015 by Israel-born Shai Wininger and Daniel Schreiber, Lemonade offers an alternative insurance model of customizable property and casualty insurance policies at a flat monthly rate in 27 U.S. states. For 2018, the company recorded over $57 million in sales, up from $10.1 million in 2017, according to its statements. Lemonade employs 170 people, 60 of them in its Israeli offices. The company's recent funding was intended to finance its European expansion.

Lemonade is currently not profitable. Like many new companies, the company has focused more on increasing its market share and customer base than on reaching profitability early. In the insurance industry especially, companies start to see profits only after several years of operations. Lemonade currently operates in the property insurance segment, considered less complex than other segments, such as vehicle or life insurance, as it requires fewer human resources to handle complaints.

It is unclear whether Lemonade's model could be applied to other insurance segments, an executive working in the Israeli insurance industry told Calcalist on condition of anonymity. "They took the easiest product, and they are showing good results," the executive said, adding that the big bucks are found in other insurance domains, like health and life insurance, where the premiums are much higher. "Providing proof of a broken shutter or a flooded floor is one thing. Proving health damages is a completely different ball game."

Everyone understands that technology could make the current insurance model more efficient, a second executive told Calcalist. "If Lemonade's model could be applied to the life insurance market, it will be a company worth not two billion dollars but dozens of billions. But you need to remember that in life insurance, it is usually not something a person does on their own but something an agent pushes them to. And Lemonade's model has no agents."

In its last funding round, Lemonade hinted at the possibility of expanding beyond its current model, with Wininger telling Calcalist in an interview that the company is developing new products that will significantly improve its ability to handle crises.

While Lemonade is mostly alone in the U.S. renter insurance market, there are several other companies with a similar model operating in the insurance industry, including Oscar Health Insurance, which offers an all-digital, efficient, and transparent model for health insurance. Co-founded by Joshua Kushner, the company is estimated to be valued at around $2 billion.

This article has been updated. A previous version stated JP Morgan and a second undisclosed bank were the underwriters.