Google Express to Use Compostable Packaging From Israeli Startup TIPA
TIPA's packaging disintegrates under compost conditions within 180 days
Google's shopping site, Google Express, will begin shipping its products in compostable packaging produced by Israel-based company TIPA Corp Ltd. Sustainable Suite Inc., an umbrella organization of sustainable packaging companies that includes TIPA, announced the deal on Monday.

For daily updates, subscribe to our newsletter by clicking here.

Founded in 2010, TIPA manufactures and designs plastic-like bags and packaging that are fully compostable, including their laminates and labels, as an alternative to conventional plastic products. The company's packaging disintegrates under compost conditions—high humidity, high temperature, and the presence of microorganisms—within 180 days, Merav Koren, TIPA's vice president of marketing said in a Monday interview with Calcalist.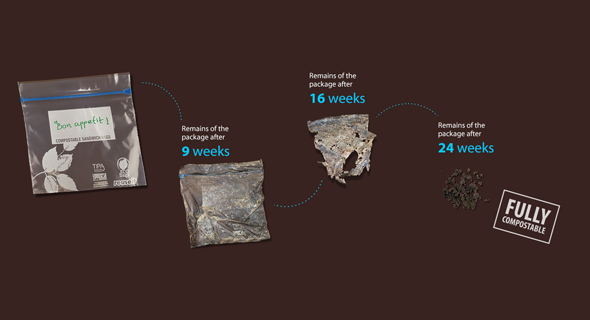 TIPA's biodegradable packaging. Photo: TIPA

TIPA's packaging is as durable and impermeable as traditional plastic packaging and works for a range of products, such as fresh produce, frozen goods, and apparel, according to company statements. Depending on the type of packaging and shape, the compostable plastic is made up of anywhere from 20-60% plant-based ingredients, such as non-genetically modified corn, Koren said.

In March, British supermarket chain Waitrose & Partners introduced TIPA'S compostable bag for its Duchy organic bananas. Waitrose & Partners estimated, at the time, that the move will save 18 tonnes of plastic per year.

TIPA's packaging also expands beyond the produce aisle and the company also produces packaging for fashion retailers, including Stella McCartney, Gabriela Hearst, and Mara Hoffman, Koren said.

While Israel is home to several companies looking to reduce the damaging effects of the use of plastics, including water dissolvable bags manufacturer Solutum Ltd., and bioplastic company 3PLW Ltd., the country is considered behind on addressing the issue of plastic pollution. Per existing law, the country charges a deposit of NIS 0.3 (approximately 9 U.S. cents) on all small drinking bottles and cans, under 1 litre, and in 2017, a new law came into force, requiring large supermarket chains to charge a small NIS 0.1 (approximately three U.S. cents) fee for each plastic bag consumed. However, Israeli legislation currently fails to address other common uses of plastic including the very common use of disposable tableware. Last year, a representative of Israel's Ministry of Environmental Protection told Calcalist that it "does not have empirical data about the amount of waste linked to disposable tableware in Israel."

Correction: A previous version of this article stated based on the interview with Koren that Tel Aviv-listed textile firm Delta Galil Industries Ltd. is a customer of TIPA. Since publication, Koren has rescinded her statement.