Analysis
Scooter-Sharing Companies Don't Make Money, They Grow
One thing remains unclear when it comes to micro-mobility services—with their relatively high expenses and low revenues, can they one day become profitable?
Electric scooters have been flooding the streets in the U.S., Europe, and Israel for the past 18 months, their numbers steadily increasing as scooter-sharing companies became the darlings of the venture capital industry.

For daily updates, subscribe to our newsletter by clicking here.

About $1.5 billion have already been poured into leading industry players, including two Californian companies—Los Angeles-headquartered Bird Rides Inc. and San Mateo-headquartered Lime—whose latest funding rounds were raised according to $2 billion and $1.1 billion valuations, respectively.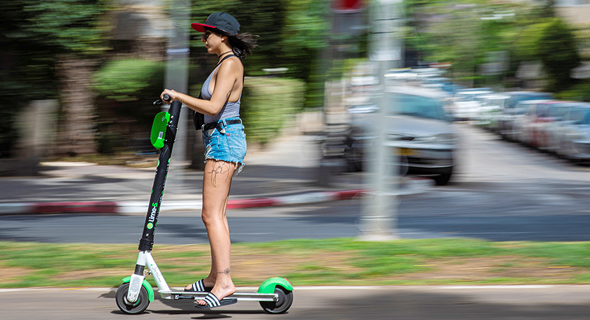 A Lime scooter in Tel Aviv. Photo: Yuval Chen

One thing, however, remains unclear when it comes to micro-mobility services offering scooters and bikes on a pay-per-use basis—with their relatively high expenses and low revenues, can they one day become profitable?

Smart mobility giants from other fields, such as Uber and Lyft, have also come to recognize the potential of the micro-mobility market. Last year, Uber acquired bike and scooter-sharing company Jump, incorporated as Social Bicycles Inc., and has also invested in Lime. Also in 2018, Lyft acquired a company with a similar business model called Motivate International Inc.

Since most micro-mobility companies are private, no public record is available to reveal their revenues, profitability, and expenses. With Uber and Lyft both going public in the past few months, many expected to finally catch a glimpse of the elusive numbers behind the seemingly booming micro-mobility industry. They were, however, disappointed to find that in their first-quarter reports, both companies stated the revenues from their micro-mobility ventures were negligible, without naming a figure. Lyft did mention one figure—$21.5 million in new expenses for the first quarter of 2019, related to deploying and maintaining the shared mobility vehicles.

While the actual performance data for shared-scooter and bike companies remains hidden, there is no dispute that they continue to grow rapidly yet remain unprofitable, with many doubting the possibility of this ever changing.

One common assumption is that there will soon be a process of consolidation, with companies either merging with one another or getting acquired by companies from correlating industries—from public transport providers to the Ubers of the world. Failing to do so would make it difficult for companies to bear the operational, marketing, and branding costs, which are only expected to increase as new players continue to enter the market.

Increasing competition will also likely drive companies to lower prices. While Bird got away with nearly doubling its rate in some cities in April, this scenario is unlikely to repeat itself in a reality where some cities have up to 12 different operators.

Another problem for scooter-sharing companies is the short lifespan of vehicles, as a result of excessive use, theft, and vandalism of vehicles. In a recent report obtained by Calcalist, management consulting firm Boston Consulting Group (BCG) stated the average scooter only lasts for three months, while it needs four months of activity to tip the scale towards profitability.
A knocked over scooter in Tel Aviv. Photo: Nitsan Saddan
צילום: ניצן סדן
The math is based on the companies' basic business model. Until recently, Bird, for example, charged a flat $1 fee per ride and 15 cents extra per every minute of use. From the $3.25 price of an average ride lasting 17 minutes, the company only gets to keep 65 cents, according to BCG. With an average of five rides being made on each vehicle a day, the company needs 115 days of operation just for each scooter to cover its $375 price tag.

When Bird entered Louisville, Kentucky in 2018, the city gathered data that could shed light on the short lives of shared scooters. The average scooter lasted for 28 days in the 760,000-people city; five scooters disappeared on their very first day in town; and just seven of the 129 scooters in the city were still there after 60 days. Only one scooter remained for 112 days, becoming one of Bird's all-time record breakers. None of the scooters were able to yield a return on the company's investment

At under $400, the cost of the average scooter is tricky. On the one hand, it is a low enough price to make scooters accessible for private purchase, eliminating the need for renting them. On the other hand, it is still enough money to weigh on the companies' current business model. If the price of the vehicles and the companies' business models remain the same, scooters must become more durable to withstand the excess use and frequent vandalism attempts. Companies will also have to find ways to prevent vehicles from being stolen.

Another costly aspect of maintaining an electric-scooter fleet is charging, which today eats up nearly half of the income-per-unit. Encouraging users to charge the devices at home for in-app credit has led to some improvement in profits, compared with the older model in which companies charged the devices themselves.

Despite the switch, according to BCG, profits still amount to less than 20% of the micro-mobility companies' revenues. In order to become profitable, these companies need expenses to reach no more than 50% of their income.

Another steady budget item that companies have little-to-no control over is regulatory expenses, which amount to about 7% of revenues. Following the initial hype, cities and governments began to realize e-scooters are not just a convenient solution for road congestion in dense metropolitan areas but also a source of severe safety concerns that takes up valuable parking real estate.

Municipal policy is one of the great unknowns for the electric scooter-sharing economy. Some cities, including New York and Chicago, have completely banned scooter-sharing services from operating in their premises. Other cities, like Paris and Vienna, have yet to figure out what to do with the ever growing population of shared electric two-wheeled vehicles. Most cities, Tel Aviv included, stand somewhere in the middle, and while they recognize the advantages of the service, they are also looking to regulate and limit it. These regulations vary from city to city and can include licensing fees, fines, and parking fees.

Since profitability seems a distant prospect for scooter-sharing companies, perhaps their best bet would be to keep losing money. As long as these companies remain private and are funded by venture capital firms that put growth ahead of profits, they should be good to go. Should they choose to accelerate their development by going public, like Lyft and Uber did recently, they will have to find new ways to generate profit.