FINTECH 2019
Facebook's Libra Will Disrupt Central Banks, Forcing Them to Adjust Their Policies, Says Israeli Banking Regulator
Hedva Ber spoke at a fintech conference held in Tel Aviv by Calcalist, Bank Leumi's tech banking arm LeumiTech, and accounting firm KPMG
Facebook's new cryptocurrency, Libra, is disrupting central banks and will force them to recalibrate their policies, Israeli banking regulator Hedva Ber said Monday. Ber spoke at a fintech conference held in Tel Aviv by Calcalist, Bank Leumi's tech banking arm LeumiTech, and accounting firm KPMG.

For daily updates, subscribe to our newsletter by clicking here.

Libra is a game changer, raising issues of money laundering and the difficulties in regulating cryptocurrency, Ber said. "From our perspective as bank regulators, we want to encourage innovation while also ensuring proper risk management," she added.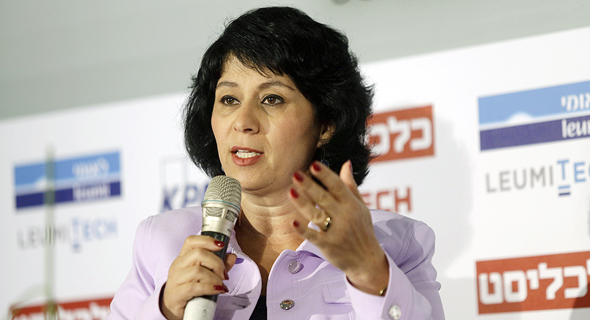 Israeli banking regulator Hedva Ber. Photo: Amit Sha'al

Ber believes the payment sector is the banking branch that is going through the most changes and that Israel is currently lagging behind compared to other countries. As Israel's main fault in the sector, Ber named the high commissions charged for standard activities such as withdrawing cash from outside the country or converting currency, actions that can be replaced by alternative digital payment methods.

The Bank of Israel is working on a plan to make all payments in the country digital within a few years, Ber said. As soon as the right infrastructure for instant payments will exist and be accessible to all players, the bank will loosen restrictions, she added.

"We are willing to take the chance that some risks will become a reality, but to avoid excess risk, we ask banks to contain their experiments within the organization," Ber said. A small startup cannot manage the types of risks involved effectively, but their technologies can still be viable, she said.

"You cannot regulate fintech startups the way you would a bank because that would kill innovation, but whoever deals with data must take some responsibility," Ber said. According to Ber, there are two options—either fintech companies can collaborate with banks, who will take upon themselves the responsibilities of risk management, or they could go at it alone, hoping to become as big as Facebook and be able to manage risks on their own.