FINTECH 2019
AI and Big Data Are the Future of Finance, Says LeumiTech CEO
Yifat Oron spoke Monday at a fintech conference held in Tel Aviv by Calcalist, Bank Leumi's tech banking arm LeumiTech, and accounting firm KPMG
Artificial intelligence and big data are the future of the financial system, according to CEO of LeumiTech Yifat Oron. Speaking Monday at a fintech conference held in Tel Aviv by Calcalist, Bank Leumi's tech banking arm LeumiTech, and accounting firm KPMG, Oron said that while the industry is traditional and slow to change, it is in the midst of a huge shift brought on by startups looking to enter the domain.

For daily updates, subscribe to our newsletter by clicking here.

The industry is undergoing changes that necessitie better service and a better customer experience, and the main tool for that is big data, gained both from within and from outside the banking system, Oron said. That is why estimations point to AI being the most significant future engine in banking, Oron said, adding that use of AI also carries additional responsibilities with it.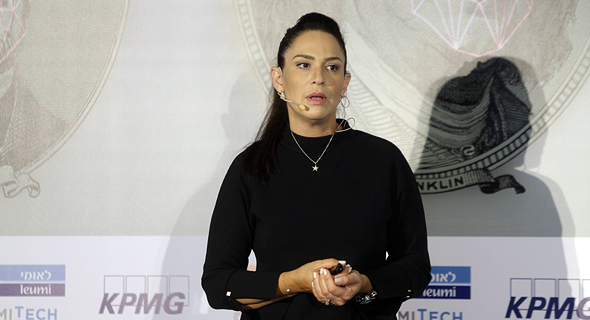 CEO of LeumiTech Yifat Oron. Photo: Amit Sha'al
What information can be used, and what can't be? Is the way banking is consumed through brick and mortar branches still relevant to regulation; should the regulator be the one to point the industry in the right direction?—these are only some of the questions being asked, Oron said.
During the financial crisis of 2008, the industry thought it was the third world war for the financial world, Oron said. "Fast forward 10 years, and we are seeing concepts and services we could not even dream of," Oron continued, naming crypto, Amazon's entrance into the financial domain, China's relatively newfound reliance on digital payments, and Facebook's newly announced Libra as examples.