The Future of Tennis: Data Decides the Match
Israeli startup LVision makes sophisticated tennis analysis available to anyone with a smartphone
Here is some data to mark the Wimbledon finals Sunday. Between 2005 and 2019, Swiss tennis player Roger Federer held his serve on 95.8% of his games on leading 15-0. This can help explain how, at the age of 37, Federer manages to stay a prominent global player: his game is near-perfect. In comparison, Serbian pro-player Novak Djokovic held his serve on 92.4% of games when leading 15-0, and Rafael Nadal did so in 92.2%.

For daily updates, subscribe to our newsletter by clicking here.

Federer lost only one match in Wimbledon when serving at least at 70% first serve in. Djokovic lost only three Wimbledon matches after winning more than 55% on his second serve. On 60%, his record goes to 30-0. Nadal's record against one-handed backhand players on grass is 9-8 (52.9%), compared with 149-19 on clay (88.6%), and 131-37 on hardcourt (77.9%).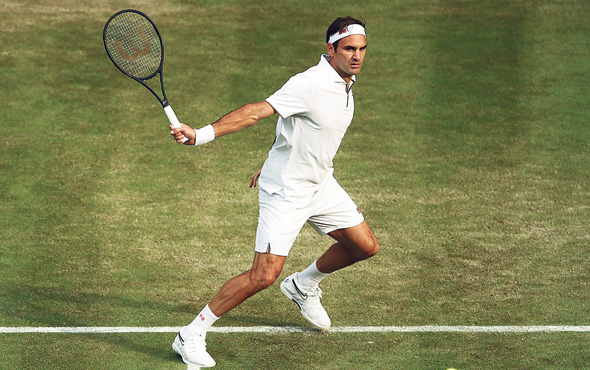 Roger Federer. Photo: Clive Brunskill

And another surprising piece of tennis data: Japanese tennis player Kei Nishikori has the best balance in recorded tennis history when it comes to deciding sets, with a 74.6% success rate (132 wins and 45 loses). For comparison, Djokovic has a 73.8% record, Andy Murray has 68.3% and Federer 65.2%.

All this data comes courtesy of Israeli sports statistics startup LVision Ltd. Founded in 2018, LVision uses deep learning and computer vision algorithms to process live streaming videos of sporting events into statistics. LVision's data reports include information on such things as ball possession, ball speed, covered distance, and the position on the court of both players and balls.

The company, which according to CEO Ido Lazar is already lending its insights to both tennis professionals and sports gambling agencies, is advertising its technology as the ultimate tool for tennis analysis. LVision can really help young tennis players, and even tennis stars, Lazar told Calcalist in a recent interview. "This is where we are headed," he said, adding that the company's objective is to help players improve their game.

Sports analytics have already changed the way baseball, basketball, football, and soccer are played, but tennis analytics are still not mainstream. This is because while sporting teams have the means to pay millions of dollars for advanced statistical analysis, tennis players typically prefer to put their money into great coaching.

But at the very top of the global game, analytics are beginning to enter the court.

Earlier this month, German tennis player Alexander Zverev told the Daily Telegraph that everyone in tennis is using data analytics, though no one is talking about it yet. The 22-year-old player said that for him, data has become a large part of the game, helping him at last year's ATP Tour Finals, in which he bettered Djokovic.

The global leaders in tennis analytics are Golden Set Analytics and Tennis Stat, which charge tens of thousands of euros for their services.

Federer is thought to have been working with such advanced analytics providers. Djokovic has been reported to work with Israeli startup PlaySight Interactive Ltd., and also with top tennis analyst Craig O'Shannessy. Nadal himself is not known to work with analytics companies, but his coach Carlos Moyá is known to favor them.

Through the LVision app, the company said it could offer advanced analytics to any tennis player with a smartphone. "Our technology allows us to monitor games in any weather and lighting condition, even with low video quality, and from multiple angles," Lazar said. The company collects data from tens of thousands of games and has a vast database on players, tournaments, and trends, he said.

"Ultimately," Lazar said, "our goal is to bring the advanced statistics revolution to Tennis, at the court level."