Tel Aviv Drops Eight Spots on Dell's Women Entrepreneurs Index
Tel Aviv came in at 32 out of 50 on Dell WE Cities index, which ranks cities around the world according to their attractiveness to female entrepreneurs
Tel Aviv may be one of the best cities in the world for tech companies but it is not so great for women entrepreneurs, according to Dell Technologies' Women Entrepreneur Cities Index (WE Cities), published Monday. The WE Cities index ranks 50 cities around the world according to their attractiveness to female entrepreneurs.

For daily updates, subscribe to our newsletter by clicking here.

Tel Aviv dropped eight spots since the last index was published in 2017, coming in at 32 out of 50 cities. The San Francisco Bay Area was ranked at the top of the list, replacing New York—which came in second this time. London, Boston, and Los Angeles followed.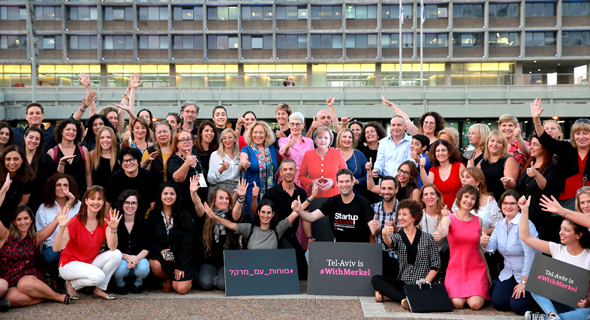 Female Techies protesting discrimination after Angela Merkel's meeting with a group of exclusively male tech execs in Israel in October. Photo: Orel Cohen
All cities ranked showed some improvement in the past two years, but the highest score was still just 63.7 out of 100. Globally, the most serious blocks women face, according to the index, are a lack of access to capital, high costs of living, low representation in management positions, and a lack of government programs to support female entrepreneurs.
What keeps female entrepreneurs from succeeding is mainly a lack of access to funds and to support networks, Anja Monrad, a senior vice president and general manager of central and eastern Europe at Dell, said in an interview with Calcalist.
When two women found a company, many funds think they are doing it as a hobby and male investors will not necessarily understand their business plan if it relates to women, she added.
A lot of women avoid starting a business because they are too afraid to leave a secure job and not being able to provide for their families, Monrad said.