In Depth
Following U.S. Sanctions, Israeli Cybersecurity Company Renounces Once-Boasted Ties to Russian Oligarch
Russian businessman Viktor Vekselberg invested $13 million in Tel Aviv-based cybersecurity company Deep Instinct through investment fund IVCP, a 13.9% stake now worth around $28.5 million
In December 2018, Tel Aviv-based predictive analytics company Fifth Dimension Holdings Ltd. shut down, selling its operations and letting all employees go. The company's collapse has been tied to sanctions levied by the U.S. Department of the Treasury on Russian businessman Viktor Vekselberg and his U.S. businesses. Among the companies whose assets were frozen is investment fund Israeli VC Partners LP (IVCP), through which Vekselberg had invested $15 million in Fifth Dimension via in return for a 20.7% stake. Now, another IVCP-backed Israeli cybersecurity company, Deep Instinct Inc., is renouncing the ties to Vekselberg that it once boasted.

Founded in 2015 by some of the founders of Fifth Dimension, Deep Instinct develops software that uses artificial intelligence algorithms to detect and prevent malware attacks. The company is based in Tel Aviv with 150 employees spread across Israel, the U.S., and Singapore. Vekselberg invested $13 million in the company via IVCP, managed by Israeli-American businessman Yaron Eitan. Eitan sat on Deep Instinct's board of directors as IVCP's representative from June 2016 until he was forced to resign in May 2018 when the sanctions on Vekselberg came into effect, he said in an interview with Calcalist earlier this week. He has not been involved with the company since, he added.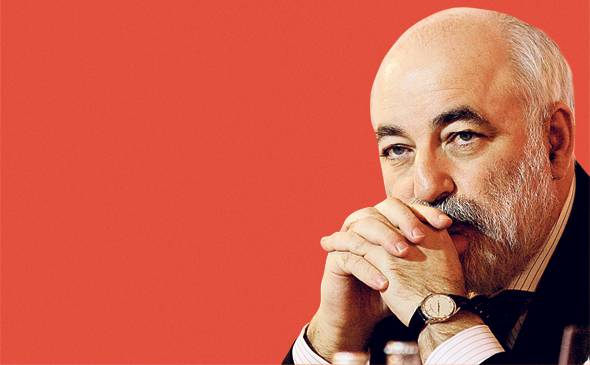 Viktor Vekselberg. Photo: Getty Images
Following Calcalist's request for comment, Deep Instinct erased all mentions of connections to Vekselberg from its website. Vekselberg sold his stake to a Swiss company called Managa AG following the sanctions, a spokesperson for Deep Instinct told Calcalist.
Vekselberg did not reply to a request for comment regarding Deep Instinct.
In May, Deep Instinct announced a partnership with HP Inc., estimated at around $150 million over four years, to install malware protection software on its newest line of personal computers, which turned the Israeli company into a dominant player in the antivirus sector.
An HP spokeswoman told Calcalist that the company is unaware of any current relationship between Deep Instinct and Vekselberg, and defers any questions regarding current or former shareholders to Deep Instinct directly.
Vekselberg is one of Russia's richest men, worth over $11 billion according to Forbes. Among his assets, according to special counsel Robert Mueller, is Swiss asset management company Renova Group. According to a complaint filed in a New York court earlier this month by some of Vekselberg's frozen assets against the U.S. Department of the Treasury, Renova's affairs are handled via two arms—both managed by U.S.-based businessman Andrew Intrater, a distant relative of Vekselberg—an investment arm called CNTV, and management firm Columbus Nova Technology Partners (CNTP). CNTV controls several smaller investment assets, including IVCP.
Vekselberg invested around $107 million in six Israeli companies via IVCP, Eitan said in an interview with Calcalist. Aside from Fifth Dimension and Deep Instinct, in which IVCP still owns a 13.9% stake according to the court documents filed July 1, those include fintech startup Credorax Inc., in which IVCP has a 15.4% stake worth $69 million; recently public online gig marketplace Fiverr Int. Ltd., in which it has a 2.8% stake; and Israeli fund First Time, in which IVCP holds a 9.4% stake in the first fund and a 3.4% stake in the second fund, worth $5.89 million together. All five companies are mentioned in the complaint using code names, but Calcalist identified them using the Israeli Registrar of Companies and later confirmed their identities with Eitan. The sixth investment was in marketing company XLMedia PLC, but IVCP sold its stake in 2017, according to Eitan, and thus it is not mentioned in the filing.
According to the Israeli Registrar of Companies, IVCP is incorporated in the Cayman Islands and registered in Island. Its base of operations, according to the court documents, is a luxurious office building on 400 Madison Avenue in New York. Deep Instinct, called company P in the complaint, is one of its biggest Israeli investments, with IVCP's stake estimated to be worth around $28.5 million, giving the company a valuation of $203 million as of March 2019. According to Israeli market research company IVC Research Center Ltd., Deep Instinct raised $64 million to date across three rounds.
Eitan, who came to Israel every month or two to handle IVCP's affairs, resigned from Deep Instinct's board following the U.S. sanctions along with another IVCP board member. He was later replaced by Deborah Hopkins, the founder and former CEO of Citi Ventures. In the July complaint, the plaintiffs alleged IVCP's representation was forced to resign from the board seat it was entitled to due to its stake, to "allow Portfolio Company P to take actions that require unanimous board consent." Company P "is exploring ways to force a sale of IVCP shares to a third party," the plaintiffs further stated.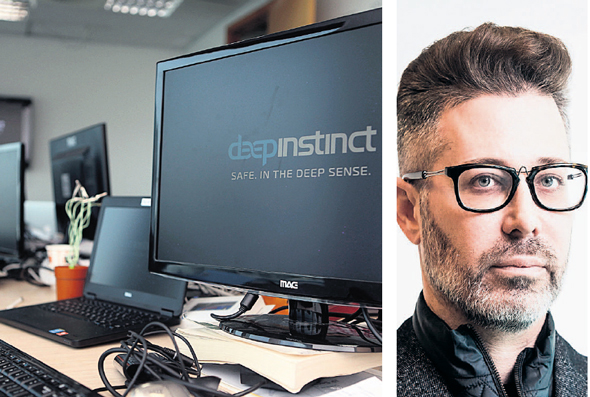 Deep Instinct's offices, CEO Guy Caspi. Photo: PR, Nimrod Glickman
Once all of Vekselberg's operations were frozen, Eitan told Calcalist, he himself left all the companies IVCP was invested in and has not received a salary or profits from an exit since. As a U.S. citizen, as of April 2018, Eitan cannot legally manage IVCP's investments or talk to the portfolio companies' CEOs or to Vekselberg, he said. With Deep Instinct's CEO Guy Caspi he has not spoken in a year and three months, he said, not even by texting.
Deep Instinct told Calcalist that Vekselberg was the one to pull his representation from its board after selling IVCP to Managa. "I heard rumors, but we are not part of this situation," Eitan said. Once IVCP stopped managing the assets, he said, Vekselberg could have done whatever he wanted with his investment and he could have sold it. "I have never heard of Managa," he added.
Over the past few days, Deep Instinct has worked to scrub the internet clean of any connection to Vekselberg and Intrater, despite highlighting those same connections in the past. In a press release published July 2017 that announced IVCP's first investment in Deep Instinct, five months after the investment was reported to the Israeli Registrar of Companies, the Israeli cybersecurity company announced it has raised a $32 million round led by CNTP.
To Calcalist, Deep Instinct said the press release mistakenly named CNTP, which "was not at all" involved in the round. At the same time, the company altered the two-year announcement on its website, erasing any mention of CNTP as part of the round as well as a mention of two CNTP representatives, Eitan and Mohsen Moazami, joining Deep Instinct's board.
The claims are untrue, Deep Instinct stated. CNTP has never invested a cent in Deep Instinct, a fact that can be verified based on the Israeli Registrar of Companies, the company further said, adding that any claim to the contrary is the result of incorrect publications. IVCP was sold over a year ago to Managa, Deep Instinct said, and anyway the company only had a minor stake of several percentages in Deep Instinct. It is important to note, the Israeli cybersecurity company added, that Deep Instinct was not a side in the sale and is not aware of the happenings behind the scenes between Vekselberg and his partners.
The documents filed in New York have no connection to Deep Instinct, which never forced IVCP's board members to resign, Deep Instinct Further stated, adding that the board members first suspended themselves due to pressure from U.S. authorities and then were fired by the fund. Deep Instinct received official notice from Vekselberg's representation that Eitan and Moazami were fired from their position as partners-managers at IVCP, the company said.
A representative from Renova told Calcalist that Vekselberg did not make any direct investments in Israeli startups. Specific investments were made via American funds that managed some of his investments prior to the U.S. sanctions, the representative said.
A representative for Intrater told Calcalist that CNTP previously managed the investments of IVCP, but did not own it. CNTV is a different entity than CNTP, the representative said, which no longer manages the investments of IVCP.