FIMI in Early Talks to Sell Irrigation Company Rivulis
FIMI is looking to sell Rivulis at an EBITDA multiple of 14, meaning between $500 million and $550 million, according to two people familiar with the matter
Israel-based private equity firm FIMI Opportunity Funds is in early talks to sell micro irrigation company Rivulis Irrigation Ltd., according to two people familiar with the matter who spoke to Calcalist on condition of anonymity. The negotiations are mainly with foreign funds, some of which were in the running to acquire Israeli drip-irrigation pioneer Netafim Ltd., the people added. In 2018, Mexico-based pipes and chemicals company Mexichem SAB de CV acquired an 80% stake in Netafim, according to a company valuation of $1.895 billion.

FIMI and its two partners, New York-headquartered private equity firm Paine Schwartz Partners LLC and Indian company Dhanna Engineering (DEL), have hired Goldman Sachs to headline the sale, the people familiar with the matter said. The partners are looking to sell Rivulis at an EBITDA multiple of 14—similar to how Netafim was valued—meaning between $500 million and $550 million, the people familiar with the matter said.

However, Netafim is considered a market leader, while Rivulis is a prominent but not leading player.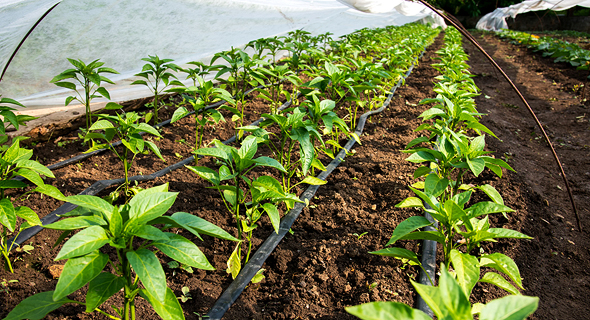 Irrigation. Photo: Shutterstock
Rivelis was created when FIMI acquired the water division of manufacturing company John Deere in 2014 for $65 million. The division was created by John Deere based on a merger of three companies, one of them being Israel-based irrigation company Plastro, based in kibbutz Gvat in northern Israel, for which John Deere paid $120 million in 2007. The later addition of Paine Schwartz and DEL diluted FIMI's stake to 54%.
At the time of the sale, John Deere was seeing annual losses of $50 million for the division. FIMI took several steps to bolster Rivulis since the acquisition. Those included closing the company's operations in China, laying off 250 employees, and relocating the company's headquarters from the U.S. to Gvat, a kibbutz in northern Israel. FIMI also led several acquisitions that gave Rivulis a stronger presence in Turkey and South America, two key global locations for irrigation products. The company had revenues of around $360 million and an EBITDA of around $36 million in 2018 and forecasts revenues of $380 million and an EBITDA of around $38 million for 2019, the people familiar with the matter said.
Negotiations for Rivulis' sale are still in their early stages and the current market instability could lower the price buyers are willing to pay, potentially leading the three partners to postpone or cancel the sale. Last year, FIMI put up another of its assets for sale, Ham-Let (Israel-Canada) Ltd., but canceled the sale due to low bids.