Israeli Country Clubs Won't Admit Arabs; Now Israel Is Promoting a New Club to Cater to its Largest Minority
The planned complex will span over 10 dunams in the Zemer Local Council, a municipality in central Israel that includes four large Arab villages; it will include swimming pools, a gym, and other sports facilities
Arabs in Israel have a hard time securing admission to country clubs. Every summer, incidents of alleged discrimination against members of the Arab minority by country clubs and public pools make headlines in Israeli media. Now, Israel's Planning Administration is promoting a new country club to cater specifically to its largest minority group, amounting to 20% of its population.

The planned complex, which recently received preliminary regulatory approval, will span over 10 dunams in the Zemer Local Council, a municipality in central Israel that includes four large Arab villages, home to a total of 7,000 people. The complex will include swimming pools, a gym, and other sports facilities. According to the administration, the project is estimated to cost NIS 18 million (approximately $5.1 million) and construction is scheduled to begin in 2023.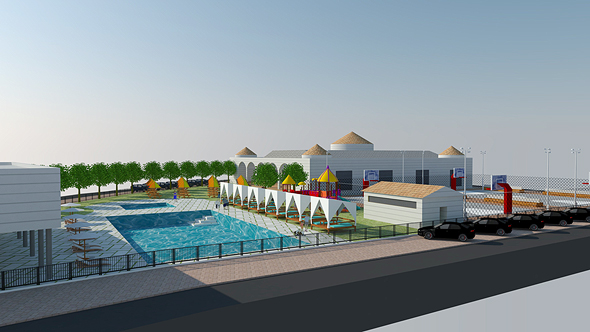 Simulation of the planned country club in Zemer. Photo: Zidan Engineering Ltd.

The move comes as claims of discrimination become increasingly frequent, with public pools and country clubs often accused of refusing membership and even entrance by Arabs. In many cases, the clubs claim they are not discriminating against Arabs but simply offering membership according to strict geographic guidelines, limiting membership to local residents. More often than not, these establishments are found to offer memberships to Jewish residents of other towns.

Israeli law prohibits discrimination in admission to public establishments—including pools and country clubs—specifically barring discrimination based on place of residence. The law does allow municipalities to offer services or benefits exclusively to residents in certain cases, but only "to the extent required for the city's proper function."

In one highly publicized case, Ahmed Mansour, an ophthalmologist from central Israeli Arab town Tira, his wife Omima Mansour Morad, who is a physiotherapist, and non-profit organization The Association for Civil Rights in Israel sued the country club and the municipality of Jewish town Kokhav Ya'ir Tzur Yigal. In their petition to the court, the plaintiffs claimed that the Mansours' request to join the country club as members in 2014 was refused solely due to their ethnic background. The country club claimed the refusal was due to the family's residence outside the municipality, despite about 20% of its members coming from nearby Jewish towns.

The court ruled for the defendants in September 2017, allowing them to continue their practice but ordering them to admit the Mansours' as an exception. The court also ruled that the country club must offer at least 10% of its memberships to non-residents but allowed it to give preference to those who are already members, all of which come from dominantly Jewish municipalities. An appeal to the country's Supreme Court filed later that year is still pending.

Last week, Israeli newspaper Haaretz reported on the case of Jihad Abu Ahmad, a resident of predominantly Arab town Nazareth, who was refused membership at the country club of neighboring Jewish town Nof HaGalil, formerly Nazareth Illit. A representative of the country club told Abu Ahmad that membership is restricted solely to Nof HaGalil residents but when his lawyer later called pretending to be a Jewish man from Migdal HaEmek, a town about 13 kilometers away, the club's manager agreed to make an exception and accept his membership.

Jamal Zidan who submitted the plan stated that local residents have long suffered from a lack of sports facilities in the area. The currently available selection is of private improvised establishments that are unregulated, he added.