Interview
The Arab Minority in Israel Is in Despair, Says Alpha Omega Founder
Reem Younis and her husband Imad co-founded the medical equipment company in 1993 and currently employ about 100 people in Nazareth, Israel's largest Arab city
In the past decade, the Arab minority in Israel has realized that it wants to belong here, but the nationality law that passed last year was a slap in its face, according to Reem Younis, co-founder and CEO of Nazareth-based medtech company Alpha Omega Ltd.

"Our parents did not feel like they belonged," Younis said in a recent interview with Calcalist, adding that the next generation, her own, was trying to contribute and advance the Arab community's standpoint in the country. "Now there is this law that says, wait a minute, you are different, foreign, and no matter how hard you work, it is not going to do you any good," she said.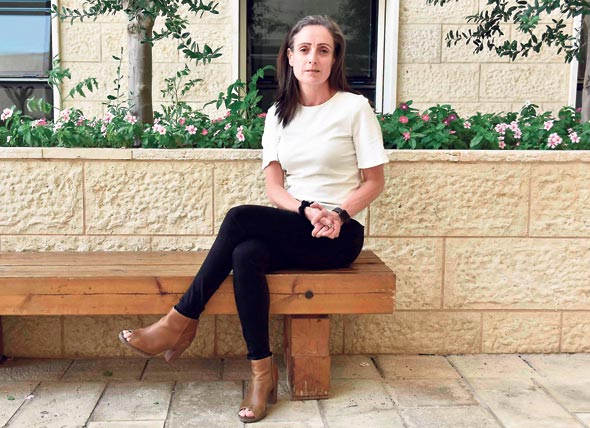 Alpha Omega co-founder and owner Reem Younis. Photo: Sharon Tzur

Israel's Nationality Law, passed with the support of a majority of 62 out of 120 members of the country's parliament in June 2018, states that Israel is the national home of the Jewish people, while failing to mention principles of equality for ethnic or national minorities among its citizens. Arabs with Israeli citizenship comprise about 20% of the country's population. Israel currently has no law strictly prohibiting discrimination on the basis of race, ethnicity, or nationality. The law also demoted Arabic from an official state language to a language with a "special status," the terms of which were not specified.

The Nationality Law has a special status as a basic law which puts it above any regular law should a contradiction arise, and requires the legislation of a new basic law to annul it.

"I am almost 55 years old, at what point will I stop having to prove my loyalty to the state?" Younis asked. "How many more companies would I have to establish, how many more employees would I have to hire, so that this country would view me as an equal citizen?"

Born in 1964 in Nazareth, Israel's largest Arab city, Younis co-founded Alpha Omega in 1993, together with her husband Imad, who serves as president of the company. Alpha Omega develops microelectrode recording (MER) systems for neurology and neurosurgery applications. The company's equipment lets neurosurgeons locate the optimal target for the implantation of Deep Brain Stimulation (DBS) electrodes. DBS is used to treat movement disorders associated with Parkinson's disease (PD), essential tremor, and other neurological conditions.

Alpha Omega employs about 100 people according to Pitchbook data. In 2018, the company raised $7 million from Guangzhou Sino-Israel Biotech Investment Fund (GIBF), a life-sciences firm backed by the Guangzhou municipal government.

What the law did was kill any hope of future equality, Younis said. "Now there is a stamp of approval for discrimination against Arabs," she said. "So how can we hope for budgets or changes to better the status of the Arab minority?" As it is now, it would even be hard to convince authorities that setting up a factory that employs Arabs is beneficial to Israel's economy, she said.

The Arab society in Israel is in despair, it is so used to being treated badly, that it has become apathetic, Younis said. "The only thing I care about is me, my children, our four walls, and that is it," she said. "You can find an activist here and there, but the majority has surrendered to desperation, which is a terminal illness for the Arab society."

That is why people do not go out and vote, Younis said. In the country's general election in April, the voting rate in towns with an Arab majority was particularly low, with just 49.2% of registered voters showing up at the polls, compared to 68.5% in the rest of the country, according to data from Jerusalem-based independent research center the Israel Democracy Institute. The two Arab-led lists running in the last election managed to scrape 10 seats in parliament combined, with one of them barely reaching the electoral threshold of 3.25% of eligible votes.

You cannot keep misery and poverty confined and in the end it will come back to haunt you, Younis said. "For example, there is a serious problem of violence and illegal weapons within the Arab society, but the police are doing nothing," she said. For now, the use of these weapons is confined to Arab towns and villages, but as desperation grows it might spread and be used against other populations in Israel, she explained. "It is silly to think you can live the high life, while your neighbor is miserable," she said. It is not sustainable, in order for you to live well, you need everyone around you to have a good life too, she added.