Election
With a Slight Sense of Deja Vu, Israelis Are Flocking to the Polls, Again
This is the second time this year that Israelis are rushed out of their ordinary lives to cast their votes after April's election came to a stalemate
Israel's general election officially started when 11,163 polls stationed throughout Israel and in Israeli settlements in the West Bank opened Tuesday at 7 a.m. The polls will remain open until 10 p.m. An additional 97 ballot boxes were stationed in Israeli embassies and consulates around the world earlier this month, allowing for the votes of about 5,000 Israeli diplomats and state workers to arrive in Israel in time for the vote count, which starts Tuesday night.

This is the second time this year that the ordinary lives of Israel's citizens are disrupted by a call to cast their votes, after April's election came to a stalemate when current Prime Minister Benjamin Netanyahu failed to establish a majority coalition.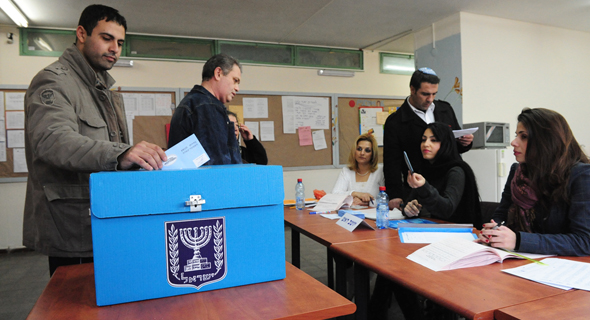 Israelis voting (illustration). Photo: Shutterstock

Entangled in several criminal investigations against him, many view the election as a vote of confidence or no confidence in Netanyahu, as they assume a newly elected Prime Minister is less likely to be indicted. In late February, Israel's attorney general Avichai Mandelblit announced he intends to indict Netanyahu for several counts of bribery, fraud, and breach of trust in three cases, pending a hearing. The hearing was originally due to take place in July, following the April election, but was later rescheduled for early October.

According to the latest surveys conducted by leading Israeli news outlets and published Friday—the last day in which political survey results could legally be published ahead of the election—Netanyahu's right-wing Likud party will receive between 31 and 33 of the 120 parliament seats, while Blue and White, the centrist party led by Netanyahu's main contender, Benny Gantz, will get between 31 and 32 seats. This would theoretically mean both Netanyahu and Gantz are likely candidates for leading the next government. Israeli politics, however, are a bit more complex.

In Israel, voters cast a single ballot ticket for the political party of their choice. Currently in the running are 29 separate parties contending for the hearts of more than 6.39 million eligible voters. Each party wins seats in the Israeli parliament, also known as the Knesset, according to the relative amount of valid votes it has received. In April's election, each seat equaled 32,860 valid votes, with the electoral threshold being 140,052 votes, or 3.25% of all votes counted.

After the votes are counted and the seats allocated, the Israeli president appoints as prime minister the candidate that manages to secure the support of a majority of at least 61 of the 120 elected members of parliament, from any party. In most cases, the honor goes to the leader of the biggest party, but that does not necessarily have to be the case, as even a small party could potentially tip the scale.

Most of the credit for Netanyahu's failure to establish a coalition in April is due to Avigdor Lieberman, formerly Israel's Minister of Defense under Netanyahu. Lieberman's nationalist party Yisrael Beiteinu, which attained just five seats, was the missing puzzle piece in securing Netanyahu's dominance, and when negotiations between the two parties failed—over a long-debated bill that would see ultra-Orthodox (Haredi) men drafted—a new election became inevitable. Following several additional attempts to add a small party to his coalition, including a failed negotiation with Israel's Labor party which won six seats, the September election was announced.

As was the case with the results of the previous election, the surveys show that even should Gantz's party garner more votes than Netanyahu's, it is unlikely for him to find enough supporters in parliament to secure a position as prime minister. In the weeks leading up to the election, Gantz's campaign shifted focus from replacing Netanyahu to promises of forming a grand coalition of secular political forces that will include Likud and Yisrael Beiteinu, riding on the latter's anti-Haredi sentiment.

Gantz's plans for a secular government ride on a common sentiment that this gap—explained by relatively high voting rates of 77% in Haredi towns compared to 68.5% among the general population—gives ultra-Orthodox parties power that exceeds their electoral significance, making any potential government subject to political extortion by an over-represented minority group that draws much ill-will from the rest of the population.