Former Sodastream CEO Danial Birnbaum Investigated for Insider Trading Violations
After being released from custody Monday, Birnbaum will be returning Tuesday for further questioning at the Israel Securities Authority's offices in Tel Aviv
The Israel Securities Authority is investigating Daniel Birnbaum, former CEO of Israeli at-home water carbonation products company SodaStream International Ltd., on suspicion of insider trading violations, partly to do with the company's 2018 acquisition by PepsiCo Inc.

After being released from custody Monday, subject to certain restrictions, Birnbaum will be returning Tuesday for further questioning at the ISA's offices in Tel Aviv. Birnbaum name has been placed under a gag order, which was lifted on Tuesday afternoon.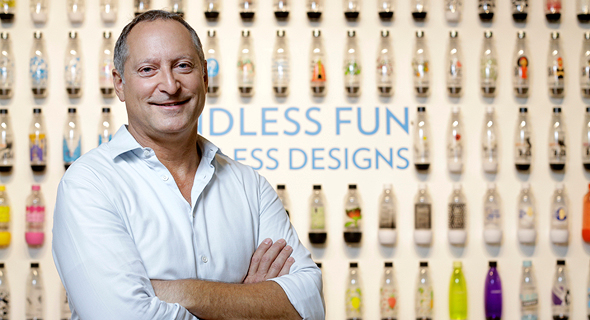 SodaStream's former CEO Daniel Birnbaum. Photo: Amit Sha'al
The ISA is investigating allegations of insider trading violations, fraud, and breach of trust by the executive. An unnamed former employee is also being investigated for suspicion of insider trading violations and obstruction of justice.
According to the allegations, Birnbaum provided his former employee with two significant pieces of information that caused SodaStream's stock to jump sharply when published: the first being an August 1, 2018 report about the company's strong second-quarter results and the second being an August 20, 2018 report about the PepsiCo acquisition. PepsiCo paid $3.2 billion, or $144 per share, for SodaStream's entire stock.
The former employee is suspected of using her insider information to buy shares for hundreds of thousands of shekels before the information became public, overall netting a profit of NIS 156,000 (approximately $42,440 at the time). She is also suspected of using insider information to make a profit of NIS 28,000 (approximately $7,420 at the time) right before the company published its annual report for 2016 on February 15, 2017.
Tel Aviv district court judge Keren Gil released Birnbaum on bail of NIS 1.2 million (approximately $342,000) and has also forbidden him from leaving the country for 180 days. He was also forbidden from contacting anyone involved in the investigation. The former employee was released on NIS 450,000 (approximately $128,000) bail.
Birnbaum's legal representation, advocate Yuval Sasson, declined to comment.
The former employee's legal representation, advocate Liran Silberman, stated that the allegations against his client are initial suspicions, and that he is confident an investigation will prove she did not act unlawfully.