SodaStream Investigation Transcripts: You Made a Killing Today, Lunch Is on You
SodaStream's former CEO Daniel Birnbaum is being investigated under suspicion of providing insider trading tips to a close acquaintance on three separate occasions, enabling her to make profits of around $55,000
"Daniel said the stock would go up and it would be good to buy," Ayala Cohen told Israel Securities Authority (ISA) investigators during her questioning two weeks ago, according to information reviewed by Calcalist. Cohen is accused of using insider information provided by former SodaStream International Ltd. CEO Daniel Birnbaum to buy company shares on three separate occasions, allegedly resulting in profits of almost NIS 200,000 (around $55,500). One of the tips she has received was about the company's 2018 acquisition by PepsiCo Inc. for $3.2 billion, made at an 11% premium on the stock's trading price at the time.

The ISA is pouring many resources into the investigation, first reported in late September. This is due to Birnbaum's position, for the past 12 years, as the CEO of one of Israel's most visible companies, and his stature in the local venture capital industry. Under Israeli law, he could be sentenced to as much as five years in jail, while Cohen could be facing up to two years.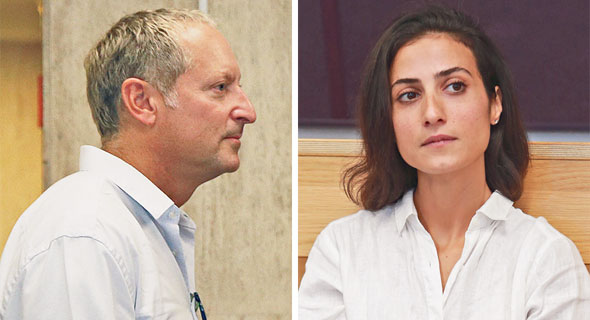 Daniel Birnbaum (left), Ayala Cohen. Photo: Orel Cohen

Cohen, a former SodaStream employee and a long-term acquaintance of Birnbaum, told investigators she has never bought SodaStream stock of her own volition. "The story was that an acquisition was needed to be made at this specific quarter, and that the stock would go up," she said about one of the tips she received, shortly before SodaStream published a positive quarterly earnings report. "He said that this quarter, the stock would go up by quite a lot."

While Birnbaum used to laugh about the purchases she made, saying things like "you made a killing today, lunch is on you," he was more careful when it came to the stock itself, she told investigators. "He always gave me the credit, even though we both knew I couldn't have done it without him."

Cohen received tips on three occasions, the first in early 2017, the latest ahead of the public announcement of the SodaStream-PepsiCo deal, which was made on August 20, 2018. At some point, she told investigators, a close acquaintance grew suspicious about the high profit she made from her stock buys and hinted that she could get in trouble if it was a result of insider information. The moment Birnbaum learned of the warning, he was obviously aware of the repercussions, according to Cohen.

"Daniel came to me that night and told me what I needed to say. He said, say I was your mentor. That you believed in me. That you believed in the stock," the transcript shows. At some point, Birnbaum told Cohen that the offense was on her. "Try to help yourself," he allegedly told her. "He said I was the one making the trade and I needed to justify myself. He tried to turn it around."

Birnbaum's legal representation, advocate Amit Becher, told Calcalist that leaks from the investigation, especially at such an early stage, can disrupt and even contaminate it. Caution should be exercised when it comes to partial statements of a person who has found herself a suspect in a criminal investigation for the first time in her life, he said, adding that the only place to respond to any allegations is the ISA offices. He further said that in his experience, and doubly true for insider trading investigations, the final conclusions of an investigation are very different from how a situation initially looks.

During his 12-year tenure, Birnbaum received an annual salary of $3 million. He made around $60 million from the PepsiCo acquisition thanks to his shares and options. He was also eligible for a $34 million bonus—$4 million in cash, $10 million over a three-year period, and another $20 million dependent on milestones. The terms of the bonus do not mention anything about different resignation scenarios for Birnbaum, beyond him being required to stay at least three years to receive the full sum. He stepped down as CEO in August, just weeks before the investigation was made public, and was appointed as chairman of the board.

Birnbaum is facing further legal trouble regarding insider trading suspicions. After the SodaStream-PepsiCo merger, a class-action lawsuit was filed against SodaStream, alleging Birnbaum used insider information to buy company stock for over $6 million. "At the time of the purchases negotiations were already being held for SodaStream's acquisition," the lawsuit alleged. "The matter was known to Birnbaum, to the members of the board of directors, and perhaps to other defendants, but it was not announced or publically known."

SodaStream and Birnbaum have yet to submit a statement of defense.