Scooter-Sharing Services Bird and Lime Come to Jerusalem
A new pilot program will see several dozens of shared scooters stationed around the city's Har Hotzvim High-Tech Park
Scooter-sharing services, already a preferred mode of transportation in Tel Aviv, are headed to Jerusalem. California-headquartered smart mobility companies Lime and Bird are set to operate their service in the Israeli capital as part of a new pilot program, both companies told Calcalist. The new pilot is set to begin following the Jewish High Holidays, which will conclude at the end of the month. As part of the program, each of the companies will set up several dozens of electric scooters in the city's Har Hotzvim High-Tech Park.

Lime and Bird offer dockless, on-demand electric scooters that can be unlocked via a mobile app. Bird launched its service in Tel Aviv in August 2018, followed by Lime in February 2019. Berlin-based scooter sharing service Wind, operated by BYKE Mobility GmbH, launched its service in Tel Aviv in January 2019.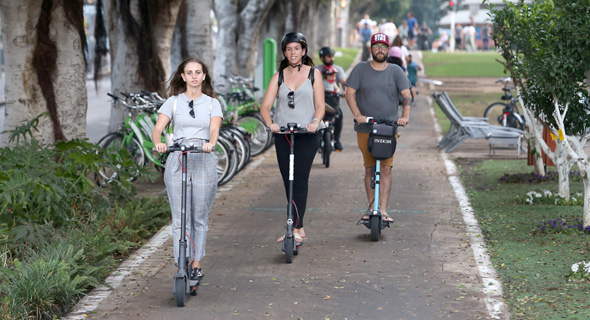 Electric scooters in Tel Aviv. Photo: Orel Cohen

Alternative means of transportation are popular in Israel where public transportation is not available at night, on weekends, and during religious holidays. In Tel Aviv, e-scooters quickly became a phenomenon. Thanks to its warm climate and mostly plain landscape, Tel Aviv is considered a haven for electric bicycles and e-scooters, mostly used as an environmentally friendly alternative to cars by Tel Aviv's many techies and young professionals rushing through the city's busy streets.

But the two-wheeled hype has also brought with it a series of high profile accidents, prodding Israeli regulators to increase limitations on users of electric bikes and e-scooters. New regulations require users to either have a driving license or pass a written exam and wear a helmet complete with a high visibility strip.

enacted further restrictions on scooter-sharing companies, making them responsible for ensuring their vehicles do not interfere with pedestrian traffic by confiscating illegally parked vehicles.