Bird Users in Tel Aviv Scooted Enough to Circle Earth 98 Times
Bird's electric scooter-sharing app has been used in Tel Aviv for more than two million rides by over 250,000 users since the company launched its operations locally in August of 2018
In Tel Aviv alone, Bird Rides Inc.'s electric scooters have been ridden enough kilometers to orbit the earth 98 times, the company announced Monday.

Bird offers an app-based dockless e-scooter-sharing service, charging users by the minute and distance traveled.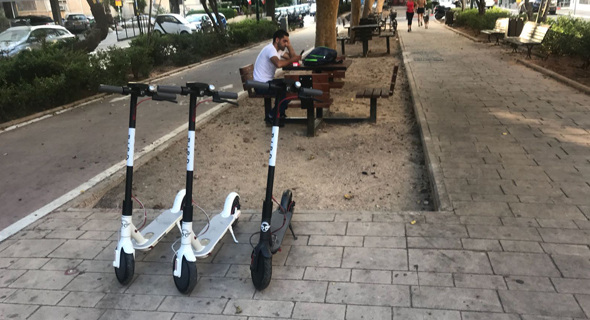 Bird e-scooters in Tel Aviv's Rothschild Boulevard. Photo: Omer Kabir

The company's electric scooter-sharing app has been used in Tel Aviv by over 250,000 users making more than two million rides since the company launched its operations locally in August 2018, Bird said. The average ride in Tel Aviv was 12 minutes, the company said.

Bird is one of three different shared-scooter services operating in Tel Aviv. The other two are Berlin-based Wind, operated by BYKE Mobility GmbH, and San Mateo, California-headquartered Lime, incorporated as Neutron Holdings Inc. Tel Aviv was the second location outside the U.S. for Los Angeles-headquartered Bird, after it launched operations in Paris.